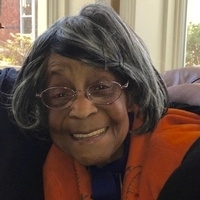 Rosie Ella Warren Short was born on August 12, 1921 to parents George and Ella Warren in La Plata, Maryland. The next year her parents had another daughter, Thelma, but unfortunately, Ella Warren died when the younger child was only 3 months old. Ella had helped him raise his children from his first marriage and became a first-time mother at age 48. George took Rosie and Thelma to Washington, DC, leaving them in separate households of family and friends.

As an accomplished farmer in Charles County, he understood tending to the land, but not parenting young children. However, before long, Rosie's independent spirit was revealed. She did not like living with a nice lady who had a houseful of children. Rosie did not like the constant intrusion of strangers coming in and out of her caretaker's home, the odious smell of soiled diapers, and the continuous crying of young babies. She longed for the quiet, peaceful atmosphere of life in La Plata on her father's farm. Every time he visited her, she begged him to take her home. At the age of 8, he consented. Rosie went home with her Dad and happiness finally began.

When Rosie was 15, her father married the late Nettie Robinson. She was born in Charles County, but was living in DC and worked for the US government. She chose to continue working in order to get full retirement. She had her own home and eventually she and Rosie brought Mr. Warren there to finish out his life. Nettie's youngest child, Reginald, joined the La Plata household with George and Rosie. Rosie was elated! She had an older brother and another youngster with whom she could interact. Rosie was an avid reader and a studious pupil. Her skills helped her father succeed in purchasing land, as he could not read or write.

Graduating from Pomonkey High School, Rosie shocked her dad when she told him that she planned to go on to college to become a teacher. She chose the former Maryland Normal and Industrial School at Bowie (now Bowie State University) that trained Black teachers. She graduated in 1942, and took a job with the federal government to repay school loans. Her teaching career began on the Eastern Shore in Queen Anne's County, and then continued in Montgomery County, Md. She met her first husband, Roland Adams, Sr., while teaching at the Spencerville Elementary School. From that union was born Brenda Joyce (now Saisa Neel) and Roland, Jr. That union lasted 7 years. Rosie continued raising the two children while teaching in segregated schools, both as a teacher and as a principal.

In 1955, after the US Supreme Court decision to integrate public schools, Rosie was one of two teachers of color, who integrated the then white McKenney Hills Elementary School in Wheaton, Md. The other was a Latino man, Mr. Garcia, who only stayed there one year. Rosie never heard from him again. Amid protests from irate parents who did not want their children in her classroom, she completed that school year. She credited her principal, Mr. Jett, with not allowing these parents to disrupt the plan to integrate both the teachers and the Black students from the segregated Linden Elementary School in Silver Spring. He supported the teachers of color and acted as a buffer between the disgruntled parents and the new arrivals.

While she raised Saisa and Roland, she did not complain about her work environment to them. Her integrity, her courage, and her resilience were undergirded by her faith and membership at the Corinthian Baptist Church in DC. There she was an active member of the Usher Board. During the summer months, Rosie sold World Book Encyclopedias. Later, she offered tutoring services to those McKenney Hills students who were deficient in reading. She went into their homes to help these children learn to read at grade level. Her skills and education demonstrated that intelligence was not limited only to white people. She won the hearts of the formerly protesting parents and 22 years later she retired from McKenney Hills, overwhelmingly loved. But she was only in her 50's at that time. God had much more life for.

She married the late James H. Short in 1968. They lived in La Plata. She continued to volunteer as a Sunday School teacher and a member of the Deaconess Board, here at Zion Baptist Church. She was a substitute teacher in Charles County schools. She and James traveled and enjoyed their retirement years. They both doted on their grandchildren: Aziza, Mohammed, Aisha, Marc, and Bryan. Then welcomed the great-grands: Trey, Essau, Sekani, Evelyn Rose, Anu, and Aziz Jabari (AJ). In 2007, Rosie moved from La Plata to Bowie, MD., to be closer to her daughter and son-in-law. She lived 6 years at Woodward Estates. In 2013, she moved to the Annapolitan Assisted Living in Annapolis. On Tuesday, July 18, 2017 God called her home and she left this earthly abode.

Mourning her loss are in-laws Shuaib Neel and Mary Adams, a host of nephews, nieces, cousins, church family and friends. Her niece, Corada Baucum, now has inherited the Matriarch of the Family role. Viewing, 10:00 am until time of service, 11:00 am, Monday, August 7, 2017 at Zion Baptist Church, 8105 Annapolis Woods Road, Welcome, Maryland. 20693 Interment, Sacred Heart Church Cemetery, 207 St. Mary's Avenue, La Plata, Maryland 20646. Arrangements by Thornton Funeral Home.