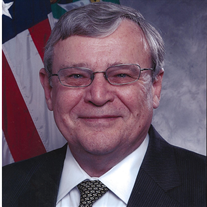 Alfred John Kopec of Marbury, Maryland died at his residence. He was 71 years old. Born on December 30, 1945 in Heilbronn, Germany he is the son of the late Agnieska Jaje and Stanislaw Kopec. John served in the U. S. Air Force for over 23 years before retiring in 1987 as a Senior Master Sergeant. He then worked for the U. S. Treasury with the Financial Management Services as a Senior Executive until his retirement in 2012.

John, a devout Catholic, was a member of St. Joseph's Catholic Church in Pomfret, MD, and he served there as a Lector. He was a Third Degree member of the Knights of Columbus, the Maurice J. McDonough Council #12128. He enjoyed building and remodeling projects at home, fishing, and spending time with family and friends.

John is survived by his wife of 52 years, Martha A. Barnum, son John S. Kopec, daughter, Jean Kopec Younger and husband David; ; grandchildren John Bryon Younger and wife Janice Gerena, and Alysa Christine Younger; a brother, Alexander S Kopec and wife, Jacqueline, along with many others family members and friends. John was preceded in death by his parents and a brother, Henry Kazimerz Kopec. Service and interment will be private. Arrangements by Raymond Funeral Service.