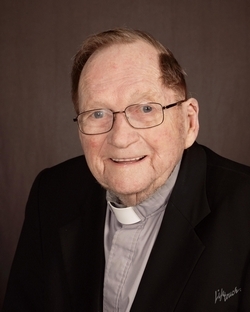 Deacon Robert (Bob) Connelly, 88, of Solomons, MD originally from Lusby, MD passed away on July 18, 2017. Our beloved husband, father, and brother, went home to the Father after a short illness. He is survived by his wife of 59 years, Jane Slade Connelly, his son, Richard Campbell Connelly of Richmond, VA, his daughters MaryBeth Barnette (Marty) of Southern Shores, NC, and Heather Najjar (Haytham) of Gaithersburg, MD, and 7 grandchildren. He was predeceased by his son, William Slade Connelly. He was the son of Dr. Richard Campbell Connelly and Hazel Burley of Grosse Point, Michigan. He also leaves 2 sisters, MaryDee Tapler and Connie Kinner, along with many nieces, nephews, grandnieces and grandnephews.

Bob graduated from Campion Jesuit High School in Wisconsin and received a BS and MBA from The University of Detroit. He retired as an executive from C&P Telephone Co., now Verizon. He was a crew member on the Williamsburg, the presidential Yacht for President Harry Truman, and following that was crew aboard the destroyer, USS Gyatt.
Bob moved from North Bethesda in 1993, living in Lusby until he moved to Asbury Solomons in 2015.

Bob has been a Deacon in the Catholic Church since 1980, serving at St. Elizabeth's in Rockville, MD, and Our Lady Star of the Sea in Solomons. As well as serving at St. Mary's Ryken High School in Leonardtown, MD, he has been a chaplain in hospitals, including Calvert Memorial Hospital. He is a 4th Degree member of the Knights of Columbus, Past Commodore of the Grosse Point Sail Club, a life member of the United States Power Squadron, Past Commander of The Detroit Power Squadron and the Potomac Power Squadron, a member of the Patuxent River Sail and Power Squadron, and a member of the Solomons Island Yacht Club.

He was the director of the Family Life Bureau for the Archdiocese of Washington in the 1970's. Bob has been a member of The Teams of Our Lady, a movement promoting married spirituality, for over 50 years. He has also traveled with physicians to medical missions in Belize and Haiti 3 or 4 times. His greatest honor was being awarded the Pro Ecclesia et Pontifice medal by St. John Paul II. The highest award for clergy by the Pope. Bob always loved the sea and sailing, and he will always be known as a man of gentleness and kindness.

Family will receive friends on Monday, July 31, 2017 from 9:30 a.m. until 11:00 a.m. at Our Lady Star of the Sea Catholic Church, Solomons, MD with a Mass of Christian Burial to follow at 11:00 a.m. Inurnment will be in the Our Lady Star of the Sea Columbarium. Memorial contributions may be made to Our Lady Star of the Sea Catholic School or Our Lady Star of the Sea Catholic Church Building Fund, P.O. Box 560, Solomons, MD 20688. Arrangements by Rausch Funeral Home.