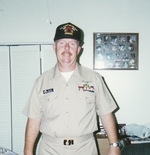 Billy Edward Devine, 57, of Lexington Park, MD passed away on July 19, 2017 at his residence. Born July 6, 1960 in Woodland, CA. He was the son of Nova Devine and the late Edward Harrison Devine. Billy was the loving husband of Timi Teresa Devine, father of Nicholas Devine of Dallas, GA and Kyle Devine of Colorado Springs, CO, and two grandchildren.

He is also survived by his siblings; Terry Devine of Lodi, CA, Sherry Roff of Durham, CA, Steve Dennis of Nevada, Jack Dennis of Oroville, CA, Linda Dennis of California, Danny Dennis of California, Herbert Dennis of California, Ola Dennis-Scarbrough of California, and Lola Dennis-Welker of California.

Billy moved to St. Mary's County in 2006 coming from Japan, he was a Program Analyst for the U.S. Government. Billy was a member of the Aviation Ordnance Association and the Chief Petty Officer Club.

A Graveside will be held on Friday, July 28, 2017 at 1:00PM in the Reedley Cemetery, Reedley, CA. Contributions may be made to Hospice of St. Mary's P.O. Box 625 Leonardtown, MD 20650. Arrangements by Mattingley-Gardiner Funeral Home.