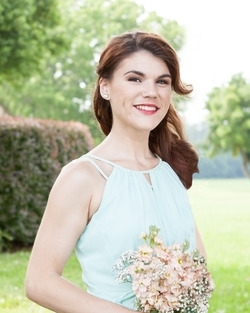 Holly Anne Blankenship, 23, of Mechanicsville, MD passed away on July 14, 2017. Born on July 21, 1993 in Clinton, MD, she is the daughter of Bryan Keith Blankenship and Deanne Marie Stoner Blankenship. Holly graduated from Chopticon High School in 2011. She received her A.A. from College of Southern Maryland and was completing her B.A. in Psychology at St. Mary's College of Maryland.

She worked as a CNA at MedStar St. Mary's Hospital. Holly enjoyed baking and crocheting. She volunteered her time to help others, including Hospice, where she also worked with the Bereavement Department and participated in their support groups. She was currently interning at Pathways, a mental health facility in Hollywood, MD. She also crocheted hats for preemie newborns with Caroline Crafters Chapter. On March 24, 2017, Holly was inducted into Psi Chi, the national honor society in psychology. Holly touched the lives of everyone she came across with her infectious laugh and beautiful smile, and she continues to touch the lives of others, as she was an organ donor and gave the gift of life.

Holly is survived by her parents, her brother, Keith Blankenship, sisters, Jessica Gascon (Chris) and Breanna Blankenship (fiance' Matt), her nephew, Emmett and her niece, Sydney. She is also survived by her grandparents; Roger Blankenship, Barbara Blankenship and Art and Dee Stoner, her great-grandmother, Georgia Blankenship, aunts and uncles, Kim Haynes, Dwain Blankenship, Stephen Blankenship, Vickie Drews, Tammy Gragasin and Angie DeOca and her best friend, Thomas Rackey.

Family will receive friends for Holly's Life Celebration Visitation from 2:00pm to 4:00 pm on Saturday, July 22, 2017 at Brinsfield-Echols Funeral Home, 30195 Three Notch Road, Charlotte Hall, MD 20622. A Funeral service will be held at 4:00 pm on Saturday, July 22, 2017 at Brinsfield-Echols Funeral Home. Interment will be private. Memorial contributions in Holly's name may be made to: National Eating Disorders Association, 165 West 46th Street, Suite 402 New York, NY 10036 or Caroline Crafters Chapter, ?Buffy Marlowe, 165 Myers Place, Salisbury, NC 28147. Arrangements by Brinsfield-Echols Funeral Home.