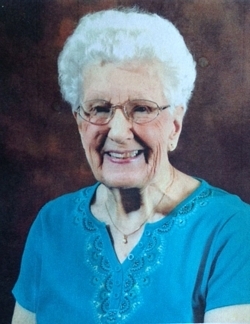 Lorraine Krause Hammond Irwin of Leonardtown, Maryland, died on July 6th, 2017 at the age of 92. She was born on July 22, 1924 in Chicago, Illinois, the daughter of the late Albert and Bessie Kaczynski Krause. She was a St. Mary's county resident since 1946.

In December 1945, she married Navy CPO Broadus Jeter Hammond in Chicago, Illinois. After his tour of duty in Millington, Tennesee, they were stationed at the Patuxent River Naval Air Station, Maryland. After his death in a car accident in 1965, she was employed at the Supply Department and Flight Test Division (now Strike Test Directorate) at "Pax River". While there, she met and later married Kenneth L. Irwin on March 26, 1971. Kenneth predeceased her on May 30, 1997.

Ms. Irwin was a past member of the Town Creek Garden Club, the St. Mary's Womens' Club, and the Cedar Lane Auxiliary. As a volunteer, she worked at Piney Point and Leonardtown Elementary schools' libraries and at the Department of Aging delivering Meals on Wheels and assembling the New Beginnings newsletter. She was also an active member of St. George's Episcopal Church at Poplar Hill in Valley Lee, Maryland. Her leisure activities included bowling, gardening, crocheting, knitting, and sewing.

In addition to her husbands, she was predeceased by a daughter, Betty Jane Hammond Bean Dacheux of York, PA, and two sisters, Virginia Krause Jensen and Catherine Krause Niersel of Chicago, Illinois. She is survived by her children: twins, Judith Hammond Guffey of Mechanicsville, Maryland and Harry Broadus Hammond of Salisbury, North Carolina, Allison Hammond Cox of Parker, Colorado and a stepdaughter, Faith Ann Irwin Finn of Woodbury, Minnesota and by her eight grandchildren, ten great grandchildren, and one great great grandchild.

A private graveside service will be held at St. George's Episcopal Church, Valley Lee, Maryland on October 8th, 2017. In lieu of flowers, memorial contributions may be made to the Second District Fire and Rescue Squad, P.O. Box 1, Valley Lee, MD 20692 or Hospice of St. Mary's, P.O. Box 625, Leonardtown, MD 20650.