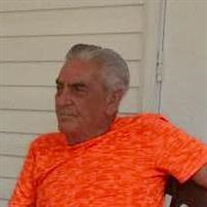 James Milford Farrell Jr., 76, of Waldorf, MD passed away on July 15, 2017 at Suburban Hospital in Bethesda, MD. He was born on March 6, 1941 in Southern Maryland to the late James Milford and Ruby Farrell, Sr. In addition to his parents he is predeceased by two sisters; Patricia Moore and Jean Cooter and one brother Sammy Truitt.

James was a self-employed painter. He was a loving husband, Father and grandfather. He was a great friend to many. He was a member of the Upper Marlboro Moose Lodge and The Sons of the American Legion. He was a fan of Elvis Presley, Nascar, especially #24 Jeff Gordon and the Dallas Cowboys.

He is survived by his wife of 46 years Wanda Ray (Smith) Farrell, five children; Terry (Kevin) Baker, James Farrell III, Pamela Farrell, Thomas (Ann) Farrell and Lisa Farrell, eight grandchildren; Racheal, Heather, Brittney, Jessica, Thomas, Christina, Jenna and Hailey, two great-grandchildren; Jade and Kamryn and sisters; Marie Lloyd and Rosalie Dawson. Arrangements by Raymond Funeral Service.