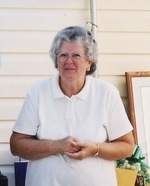 Camille "Millie" Marie Gragan Norris, 78 of Hollywood, MD passed away on July 11, 2017 in Solomons, MD. Born July 24, 1938 in Chaptico, MD she was the daughter of the late Anna Marie and James Walter Gragan. Millie was the loving husband of the late John Louis Norris, who she married on February 12, 1954 in Chaptico Church Chaptico, MD and whom preceded her in death on August 3, 2007.

Millie was a lifelong resident of St. Mary's County, she was a homemaker. Millie is survived by her children: Judy Redmond of Leonardtown, MD, Louis Ronald Norris of Hollywood, MD, Jerry Norris of Hollywood, MD, George Redmond of Leonardtown, MD and Dee Dee Norris of Hollywood, MD, 5 grandchildren and 11 great-grandchildren.

In addition to her parents Millie was preceded in death by her siblings; Bernadette Dingee, Elwood Gragan, Annabel Copsey, Dorothy Vallandingham, Lathan Gragan, Shirley Huntington and Nancy Miedzinski.

The family will receive friends on Monday, July 17, 2017 from 5:00PM to 8:00PM with prayers recited at 7:00PM in the Mattingley-Gardiner Funeral Home, Leonardtown, MD. A Mass of Christian burial will be celebrated on Tuesday, July 18, 2017 at 10:00AM in St. John's Catholic Church with Father Raymond Schmidt officiating. Interment will follow in the church cemetery.

Pallbearers will be: Ronald Norris, Jr., Randy Norris, Kevin Redmond, Timmy Berry, Jr., Stevie Gragan and Joe Hancock. Honorary pallbearers will be: Stephanie Norris, Mindy Selby, Jeff Hancock and Ricky Norris. Arrangements by Mattingley-Gardiner Funeral Home.