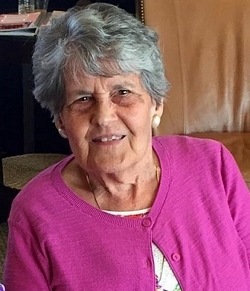 Charlotte Ann Bennett, 85, of Leonardtown, MD formerly of Lusby, MD passed away on July 12, 2017 in Washington, DC. She was born November 10, 1931 in Tall Timbers, MD. Charlotte was the youngest of ten children born to the late Louise Virginia and Oliver Burton Milburn. She was the loving wife of Richard Henry Bennett who preceded her in death in 2008.

She is survived by two daughters Deborah Xinis (James) of Owings, MD and Barbara Prawde (Eric) of Olney, MD. She is also survived by her loving grandchildren Sarah Xinis Boutaugh (Scott), Daniel Xinis, Alyse Prawde and Emily Prawde. Charlotte was preceded in death by her siblings: brothers Harvey, Stephen, James, Robert, George, and Elliott Milburn and sisters Virginia Stone, Delma Bennett and Elizabeth Johnson.

Charlotte graduated from Great Mills High School in 1948 and moved to Washington, DC to work for several government agencies. She married Richard in 1951, and they raised their family in Hyattsville, MD. She later worked in the offices of the Dart Drug Corporation. Charlotte and Richard moved to Drum Point in Lusby, and she worked for the Holiday Inn in Solomons, MD.

She enjoyed spending time in Ocean City, traveling to B & B's, and visiting family in St. Mary's County. Charlotte was famous for her stuffed ham which she made for many a family gathering. A woman of strong faith, she had been active in her church and contributions may be made in her name to Middleham St. Peters Episcopal Church, Lusby, MD. Arrangements by Rausch Funeral Home.