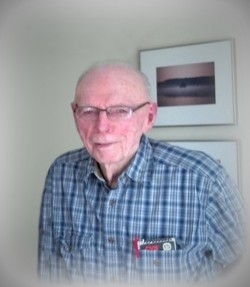 John Robert Conrad Sr., 93, of Hollywood, MD passed away on July 8, 2017 at MedStar St. Mary's Hospital in Leonardtown, MD. He was born September 8, 1923 in Washington DC to William H. and Charlotte E. Conrad.

On August 16, 1943, he enlisted in the United States Army and proudly served his country until his honorable discharge on November 29, 1945 as a Private First Class. During his service he earned the Good Conduct Medal, Asiatic Pacific Theater Service Ribbon, Philippine Liberation Service Ribbon, American Theater Service Ribbon, and World War II Victory Ribbon. He was married to his beloved late wife, Mary Evelyn Brasher Conrad for over 60 wonderful years until her passing in June 2010.

He was employed for over 30 years as the Foreman for Grand Union Company until his retirement in March 1984. He was also employed part-time for over 20 years by Gasch's Funeral Home, P.A. in Hyattsville, MD. His hobbies included cheering on the Washington Redskins, fishing, dining out and taking care of his flower gardens. He was a member of the Disabled American Veterans Organization and St. John Francis Regis Catholic Church.

John is survived by his sister, Mary Aloupis of Melbourne, FL, his step-children, Harold R. Wilson of Corydon, IN and Dorothy L. Kitterman and family of Corydon, IN; his cousins, Sharon (Tina) and Rick Turner and family, Bussie and Mary Dixon and family, and Alice and Ernie Tennison and family, his special friends, Joseph Somerville and his family, Kelly Crosby and family; and many extended family and friends. In addition to his parents and wife, he is also preceded in death by his children, William Thomas Conrad and John R. Conrad, Jr.

Family will receive friends on Friday, July 14, 2017 from 10:30 a.m. to 12:00 p.m. at St. John Francis Regis Catholic Church, 43927 St. John's Road, Hollywood, MD. A Mass of Christian Burial will be celebrated by Reverend Raymond Schmidt at 12:00 p.m. Interment will follow at 2:30 p.m. at Cedar Hill Cemetery in Suitland, MD.

Pallbearers will be Joseph Somerville, Darryl Somerville, Joseph Somerville III, Mike Aloupis, Gary Crosby, Bryan Crosby, Patrick T. Michael and Cliff Posey. Memorial contributions may be made to VSCOA PAWS (Veteran Support Centers of America), 22121 Royal Oak Road, Quantico, MD 21856. This program provides service dogs for veterans and first responders. Arrangements by the Brinsfield Funeral Home, P.A.