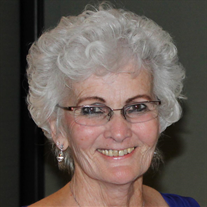 Barbara Jeanine Easley, 78, of Huntingtown, MD formerly of Callaway, MD passed peacefully holding her daughter's hand, surrounded by her family on Sunday July 9, 2017 in Annapolis, MD. Born in Danville, IL she was a daughter of the late Charles O. and Willetta E. (Tanner) Downing. She was the beloved wife of the late Joseph Hanson and Charles Easley.

She worked as a secretary at the University of Maryland retiring in 1998. She had moved in with her daughter this past January, completing the family home. She especially enjoyed the butterfly garden that was planted for her. She will be missed by her many beloved friends and her family.

Barbara is survived by her two children; Janet Lea Smith (Mark) of Huntingtown and John Jay Hanson (Regina) of Bowie, three grandchildren; Brendan Joseph Smith and Kristen Jeanine Smith Charles (Philip) of Huntingtown and Jacylyn Hanson of Bowie. She also leaves behind a special friend Charles Shifflett. She was preceded in death by her brother Carl William Downing.Contributions in lieu of flowers may be made to the George Washington University School of Medicine, Wegener's Granulomatosis research. Arrangements by Lee Funeral Home.