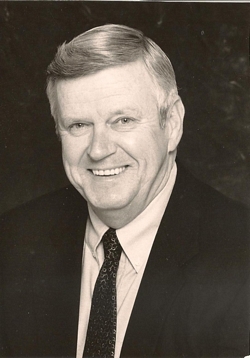 Dr. John Milton Sine, of Issue, MD passed away peacefully at his home on July 6, 2017 at the age of 85. Born December 21, 1931 in Washington, D.C., he was the son of Louise Sullivan (Sine) Henderson and John Milton Sine, Sr.

He was the beloved husband of Joan Reese Hungerford Sine for 58 years and loving father of six children: John D. Hungerford, and his wife JoAnne; Joan E. Hungerford; Evan E. Sine and his wife Beth; Andrea R. S. Watkins and her husband George; Tara S. Landis and her husband Jamie; M. Heather Sine and her husband John F. Loome, III; 12 grandchildren and two great-grandchildren. He was preceded in death by his parents and his step father G. Gilbert Henderson.

John grew up in Washington, D.C. and moved to the Sullivan family farm in Marbury, MD at the age of 14. He was in the Lackey High School graduating class of 1949, where he was active in the yearbook, newspaper, chorus, band (clarinet), and basketball and baseball teams. John served in the United States Air Force from 1951 to 1954, and enrolled in the University of Maryland (UMD) College Park shortly after his honorable discharge.

He received a B.A. in English, with a minor in Philosophy from UMD in 1958; a M.A. in Dramatic Literature and a minor in Philosophy from New York University (NYU) in 1960; and a Ph.D. in Higher Education Administration from the Catholic University of America in 1972. It was during his time at NYU that he reconnected with his high school sweetheart, Joan Reese Hungerford. They wed on April 16, 1959, and moved back to Charles County, MD in Bryans Road in 1961.

In 1961, John joined the small staff of the newly established Charles County Community College, where he taught English, Speech, and Philosophy. He taught until 1965, when he was appointed Dean of the College. He served in this position for the next 17 years, and oversaw the college's growth and expansion from a small facility on Bumpy Oak Road to it's present campus on Mitchell Road, now known as the College of Southern Maryland (CSM). He was appointed President of the College in 1982 where he oversaw its greatest expansion, and led the institution for the next 16 years. The building of the Learning Resources Center, the Center for Business and Industry, the Fine Arts Center and the Health Technology Building are hallmarks of his presidency.

Over his 37-year career, John was instrumental in expanding the college's presence not only at the La Plata Campus, but also in St. Mary's and Calvert Counties, creating and designing the concept of a regional community college for the residents of the tri-county area. He was a strong advocate and active champion for higher education and was instrumental in setting the strong foundation for the present institution of CSM.

John served in many leadership positions and committees outside of the College, including the Charles County Economic Development Commission Board of Directors, Charles County Chamber of Commerce Board of Directors, Board of Governors of the Southern Maryland Higher Education Facility, St. Mary's Ryken High School Board of Directors, Physician's Memorial Hospital Board of Directors, Maryland Council of Community College Presidents (Chair), the Governor's U.S. 301 South Corridor Transportation Task Force (Chair), Trial Courts Judicial Nominating Commission, and the Appellate Judicial Nominating Commission. He was also named as Citizen of the Year by both the Waldorf Lions Club and Waldorf Kiwanis.

Following retirement, John continued to enjoy his love of family, fishing, gardening, golf, music and reading. In 2007, he took on one of his most challenging endeavors by writing and self-publishing his first novel, Cuckold Creek (2008), under the pseudonym Enis St. John. He then wrote Tobacco Styx Bridge (2010) and Trinity Island (2011). The fictional trilogy depicted events set in Charles County.

Visitation will be held Wednesday, 12 July, 5:00-8:00 PM at Arehart-Echols Funeral Home, 211 St. Mary's Avenue, La Plata, MD 20646. A mass of Christian burial will be held at Sacred Heart Church, 201 St. Mary's Avenue, La Plata, MD on Thursday, 13 July, at 10:00 A.M. A graveside service will follow at St. Ignatius Church, Chapel Point. Memorial contributions may be made to the College of Southern Maryland Foundation, CSM Foundation, Post Office Box 910, La Plata, MD 20646 or online at http://foundation.csmd.edu/giving/index.html.