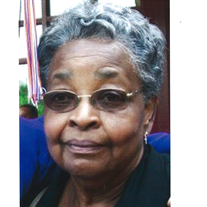 Frances Louise "Pete" Gant, of Port Tobacco, Maryland passed away on July 4, 2017 at Washington Hospital Center in Washington, DC. She was 74 years old. Born on April 1, 1943 in Newburg, Maryland she is the daughter of the late Harriett Johnson and John Charles Gant.

As a life-long resident of Charles County, Ms. Gant worked in the Charles County Public School System where she later retired, she was also known for her time as a beautician at Blue Haven Beauty Salon. Pete was famous for her cooking; especially her potato salad, fried chicken and her delectable pig feet. She also enjoyed listening to music, dancing, and being with her family and friends. She was of the Catholic faith and attended Our Lady Help of Christians Catholic Church in Waldorf.

In addition to her parents, she is preceded in death by her son Joseph A. Gant; siblings Dorothy Dorsey, Mary Lucille Briscoe, George "Leck" Dorsey, Charles "Brunk" Dorsey, and John Louis Dorsey. She is survived by her daughter Cynthia L. Johnson; son James Yates Sr.; nephews who she raised as her own, David Dorsey and Joseph Dorsey; siblings Mary Whalen, David Lee Gant, Joseph "Moe" Gant, and James Dorsey; grandchildren Brian Dorsey, Angelo Gant, Keyanna Yates, James Yates Jr., Shayla Gant, Sybil Gant, Ryan Gant, Antoine Harley, Shanise Gant, Chelsea Johnson, and Jasmine Yates; great grandchildren Kamryn Muschette, Brandon Muschette, Trenton Muschette, Khalil Gant, Jaymee Barnes, Navarro Gant, Jurnee Nichols and three on the way (summer 2017).

Visitation on Wednesday, July 12, 2017 from 10 AM until for Mass to begin at 11 AM at Our Lady Help of Christians Catholic Church, 100 Village Street, Waldorf, Maryland 20602. Pallbearers are James Dorsey, Joseph Gant, Calvin Price, Michael Briscoe, George T. Briscoe. Interment to follow at Heritage Memorial Cemetery, 13472 Poplar Hill Road, Waldorf, MD 20601. Arrangements by Raymond Funeral Service.