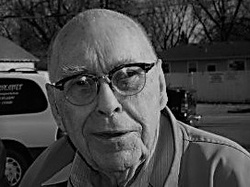 John Baxter Owen passed away peacefully on Saturday, July 1st at his daughter's home in Hollywood, Maryland. He was 99 years old. John was born in Monroe City, Missouri in 1918 to the late Archibald and Effie Owen. He grew up on the family farm with his parents and his two aunts.

He graduated from Northeast Missouri State Teachers college in 1940, with a Bachelor of Science in Education. His plans to continue his graduate studies were interrupted by the beginning of World War II, and he was assigned to a troopship headed toward the Philippines. He was on this ship when the attack on Pearl Harbor occurred. The ship returned to San Francisco, California, and he served there and at other stateside posts for the duration of the war.

Major Owen retired from military service, including the Missouri National Guard (1938-1940), Army Active (1941-1946), and the U.S Army Reserve (1946-1969). He was proud of his Army service. After the war he resumed his educational goals, completing his M.S at the University of Kentucky in 1948. After this he worked for Public Health in Cincinnati and the U.S Fish and Wildlife Service in Pierre South Dakota. In 1953, he returned to graduate school and earned a Ph.D. in Biology from Iowa State University.

It was at Iowa State that he met Alice Koning, whom he married in 1955. They moved to Alaska where he worked as a biologist for the U.S. Bureau of Commercial Fisheries at Auke Bay, Alaska. In 1965, he moved his family to Grand Forks, North Dakota to teach fisheries biology at the University of North Dakota. He taught, conducted research studies and worked with many graduate students in fields related to the science of biology, particularly in fresh water fish habitats in the Midwest.

John was predeceased by his wife in 2011. He is survived by his son, John A. Owen of Edina, Minnesota; his daughter, Nancy Owen Jackson of Hollywood, Maryland; grandsons Christopher (Emily) Owen of Houston, Texas and David (Erin) Owen of Cedar Rapids, Iowa; as well as three great-grandchildren.

Internment at Arlington National Cemetery is planned and the ceremony schedule will be released when available. In lieu of flowers, donations may be made to Hospice of St. Mary's County or the Alzheimer's Association of America. Arrangements by the Brinsfield Funeral Home, P.A.