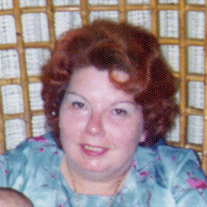 Margarette Wah Ni Tahe Baker, of Mechanicsville, MD left us peacefully in the wee hours of the morning of Monday, July 3, 2017. A native of Washington, D.C., Wah Ni Tahe was the 5th child and only daughter of the late Annie Richard Stephens Webb and Grady Voil Webb. Her brothers, Richard, Dan, Loftis, and Bob, have all gone on to Glory.

For over 25 years in Southern Maryland, she was known as the owner/broker of L.U.V. Realty, retiring in 1995 for medical reasons. A true humanitarian at heart, Margarette helped many families get into their first homes, even when the process seemed impossible.

Wah Ni Tahe's life-long passion was music. At age 15, she was a radio singer for local gospel shows, and at 18, was one of the first women asked to join the Singing Sergeants. She discovered Barbershop 4-part harmony in 1959 and found her niche. She was a 50 plus year's member of Sweet Adeline's International, serving as Director to 5 different choruses over the decades, and was also an accredited Sound Judge. She was the Lead in the Flaming Mames, a popular regional quartet. In addition, she composed several musicals, and created and arranged a portfolio of beautiful songs.

But above all else, she loved and guided her family. She accepted the role of matriarch, and with the Lord's help, worked hard to raise her children. She instilled in them a love of God and country, and helped them find the strength and courage to follow their dreams. In her warm home and heart, all were welcomed and included, even the 'strays'. Christmas was magical at Gramma's.

Beloved mother of Cherie Brackett-Dixon (Kent) of Mechanicsville, MD, William Grady Baker (Carol) of Mt. Solon, VA, Phillip Bryan Baker (Patricia) of Gore, VA, William A. Baker III (Lynn) of Minneapolis and the late Gregory Albert Baker (surviving wife Sharron) of NC. She has 14 Grandchildren and 20 Great-Grandchildren.

Wah Ni Tahe loved flowers, with the exception of gladiolas. In lieu of flowers, contributions in her memory may be directed to Central Union Mission, 65 Massachusetts Ave., Washington, DC 20001, or to the Sweet Adeline's Young Women in Harmony program (1.800.992.7464 ), 9110 South Toledo Ave., Tulsa, OK 74137. Arrangements by Lee Funeral Home.