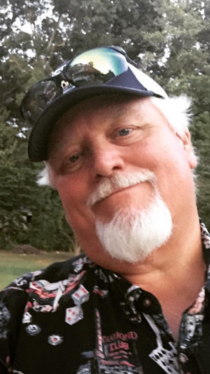 Steven "Steve" Lynwood Cooksey, 61, of Cobb Island, MD passed away at home on June 29, 2017. Born in La Plata, MD on August 31, 1955 to Guy L. Cooksey and Ellen S. Cooksey, Steve is also survived by his loving wife of 42 years, Cathy Cooksey; daughters, Clara L. Willey (Tom), Stacy L. Lenhart (Scott) and Amy L. Deavers (Daniel); sisters, Pam Newman, Paula Connick and Cyndi Bilbra; brother, Bernie Cooksey; grandchildren, Tommy Willey, Emily Willey, Drew C. Lenhart, Wyatt Lenhart, Grady Lenhart, Kyle Deavers (Kimmy), Ashley Deavers, Mallory Deavers and Dylan Deavers; and great-granddaughter, Scarlett Deavers.

Steve was employed by Pepco. He was a volunteer with numerous Charles Co. Fire & Rescue Squads. Steve loved his family and enjoyed crabbing, sailing, and hunting in his spare time. He also liked CB radios and had a love for rebuilding vehicles.

The family will receive friends on Wednesday, July 5, 2017 from 2 to 4PM and from 6-8PM at Arehart-Echols Funeral Home, PA (211 St. Mary's Ave., La Plata, MD). A Funeral Mass will be held on Thursday, July 6, 2017 at 11AM at Holy Ghost Catholic Church (15848 Rock Point Rd., Newburg, MD). Interment immediately following Funeral Mass in Church Cemetery. Arrangements by Arehart-Echols Funeral Home.