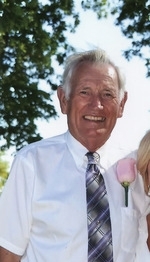 James L. Hill Sr., (Jimmy), 78, of Chaptico, MD passed on June 28, 2017. He was born on July 24, 1938 to the late Zachery Joseph Hill and Mary Edith Hill. Jimmy is survived by his wife of 57 years, Irene Copsey Hill of Chaptico, MD whom he married on August 8, 1959 and his four children: Tim Hill (Dora) of Chaptico, MD , Kathy Sullivan (Chris) of Mechanicsville, MD, Sandy Graves (Joey) of Chaptico, MD, James L. Hill, Jr, (Nicole) of Potomac Falls, VA, 10 grandchildren and 11 great grandchildren. Siblings: Cecila Hill, Robert Hill, Edith Bell, Betsy Guy, and Ree Knott. He was preceded in death by his sister Mary Loretta Lawrence and brother Zack Hill, Jr.

Jimmy was born on a farm in Chaptico and started his working career as a Farmer and Waterman. He mastered several Trades such as; Electrical and Carpentry, and became a member of the Carpentry Union #1590 in 1972. Jimmy went on to start his own successful Construction and Land Development business, JL&IV, Inc. where it remains in business today. He was very generous with his time. He served as a member of the Maryland National Guard, Mechanicsville Moose Lodge #495, volunteered with the Mechanicsville Lions Club, and other organizations in support of his community. Sundays found Jimmy serving as a Usher at Our Lady of the Wayside Church in his home town.

Jimmy loved to dance. He was a member of the "Country Dock Cloggers" and the Country Music Club. He enjoyed playing cards, whether it was "Pitch" or "Poker", Jimmy was always looking for a game with family and friends. He was drawn to the water. He grew up on a farm on the water, made a living on the water for a period of time and then returned to his own place on that same body of water. Fishing, crabbing, oystering, waterfowling were second nature to Jimmy. While he loved to build, create, learn and experience new places, his real passion is his family. Spending time with his family, sharing stories and having a laugh was his greatest joy.

The family will receive friends on Sunday, July 2, 2017 from 2:00 PM to 5:00 PM with prayers recited at 3:00 PM in the Mattingley-Gardiner Funeral Home, Leonardtown, MD. A Mass of Christian Burial will be held on Monday, July 3, 2017 at 10:00 AM in Our Lady of the Wayside Catholic Church Chaptico, MD with Father Anthony Lickteig officiating. Interment will follow in Sacred Heart Catholic Church, Bushwood, MD. Serving as pallbearers are his grandchildren; John Meade, Cody Magelssen, Jason Hill, Josh Hill, Michael Sullivan, and Matt Sullivan. Honorary pallbearers are Jack Hill and Nick Hill. Contributions may be made to the Seventh Dist. Vol Rescue Squad P.O. Box 7 Avenue, MD 20609. Arrangements by Mattingley-Gardiner Funeral Home.