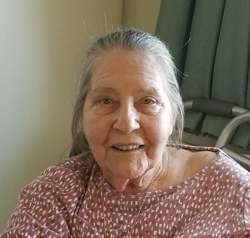 Mary Ann Goldsborough Davis, 87 of North Beach, Maryland died on Saturday, June 24, 2017 at Mecklenburg Rehab in Charlotte, North Carolina after her courageous battle with dementia. She was born on October 24, 1930 in Mechanicville, MD to the late Joseph Raymond Goldsborough, Sr. and Mary Catherine Jenkins Goldsborough.

Mary is survived by her two daughters, Andrea M. LaPrad and her husband, Donald and Charlotte Faye Coppage. All reside in the Carolinas. She is also survived by her grandchildren, Lisa M. Colley, Benny Wayne Mccroskey, Paul A. LaPrad and George Richardson; her great grandchildren, Christopher S. Mccroskey, Ashlee M. Colley Roelofs, Kourtney M. Colley, Mary Mary Katelyn Mccroskey, Brianna D. LaPrad and Astrid LaPrad; her great- great grandson Trevor Mccroskey; her brothers, Frank Goldsborough, David Goldsborough, James "Elmer" Goldsborough, Charles Goldsborough, John Goldsborough, Robert Hamblin and Andy Goldsborough and many nieces and nephews.

In addition to her parents, Mary Ann was preceded in death by her oldest brother, Joseph Raymond "Sonny Boy" Goldsborough, Jr., and her brothers, Leonard Goldsborough and Thomas E. Goldsborough. The Rev. Dr. Marshall Coffman will officiate and the pallbearers will be Jimmy Goldsborough, Leonard Goldsborough, Brad Goldsborough, Matthew Goldsborough and Steven Lagana. Arrangements by Raymond Wood Funeral Home.