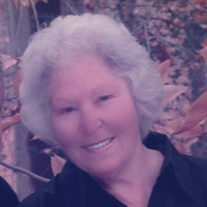 Barbara A. Ricci, 78, of Owings, MD passed on Wednesday June 21, 2017 at her home surrounded by her loving family. Born in Washington, D.C. she was a daughter of the late William T. and Thelma F. (Myers) Cogswell. She was the beloved wife of Gino Ricci for sixty years. She enjoyed singing, dancing, walking on the boardwalk in North Beach, taking rides in the car, and having her pint of ice cream. She also became active and enjoyed the events at the North Beach Senior Center.

Along with her husband she is survived by four children; Gino Edward Ricci, William Ricci (Heidi), Gloria Lytton (Jeff), and Linda Chappell, eight grandchildren; Melissa Martin, Sabrina Torres, Rachel Ricci, Stephanie Dunagan, Alice Ricci, Jacqueline Lewis, Jeffrey Lytton, and Edward Ricci, eight great-grandchildren; Jason Rogers, Bryce and Sophia Legeer, Andrew and Jordyn Martin, Kylee Cosgrove, Paisley Dunagan, and Cruz Torres, and also several nieces and nephews. She also had her faithful and loving companions Sissy, Willy, and Billy, and her Butchie Birds.

She was preceded in death by a brother William "Sonny" Cogswell Jr. and two sisters Dorothy Moore and Jacqueline Evenson. In lieu of flowers, contributions in her name may be made to Dunkirk Fire Department and Rescue Squad or the North Beach Senior Center. Arrangements by Lee Funeral Home.