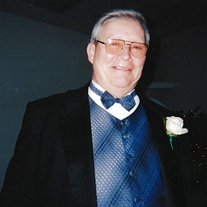 George James Bunting, 84, of La Plata, Maryland, died June 20, 2017. He was the son of Otho Preston Bunting and Evelyn Marie (Aitken) Bunting. In addition to his parents, he was also predeceased by his brother Rodney; sisters Jean and Nancy; and son-in-law David Montgomery.

George was a veteran of the United States Air Force, was an Analyst for 37 years with the Department of Navy, and retired from Naval Air Systems Command. He was born October 9, 1932 in Kearny, New Jersey and graduated from Caroline County High School. He later attended St. John's College and graduated from Southeastern University. George was a wonderful husband, father, and friend who enjoyed fishing, photography, model railroads, computers, old western movies, and playing his uke. He was a member of St. Paul's Church Piney Parish.

He is survived by his loving wife of 57 years, Dora; his daughters, Barbara Montgomery, Lisa (Keith) Thoms, Georgi (Ken Lee) Bunting; and his sister Eve; his grandchildren Jenna, Hannah, Beau, Aubrie, Ainsley, and Amelia; and his great-grandchildren, Kole, Charlotte, Violet, and Henry.

Friends will be received on Thursday, June 29, 2017 from 5-8PM with Prayers at 7PM at Raymond Funeral Chapel, 5635 Washington Avenue, La Plata, Maryland 20646. Funeral Service will be on Friday, June 30, 2017 at 9AM at St. Paul's Episcopal Church Piney Parish in Waldorf, Maryland. Interment will be private. Memorial contributions are asked to St. Paul's Episcopal Church Piney Parish, 4535 Piney Church Road, Waldorf, Maryland 20602. Arrangements by Raymond Funeral Service.