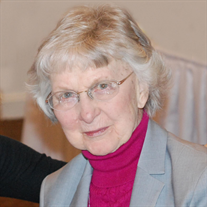 On Sunday, June 18, 2017, Velma Jack Havenner, 92, passed peacefully at home in Swan Point, MD surrounded by her immediate family. Born November 15, 1924 in Ivywood, PA she was the daughter of the late John P. Jack and Ruth Fleming Jack. In addition to her parents, she was preceded in death by her three brothers, LeRoy R. Jack, John J. "Joe" Jack, and Clifford Jack.

Velma graduated from Butler High School with a commercial certification in shorthand and typing skills. She moved to Philadelphia, PA and went to work with the War Assets Administration. From there, she moved to Washington, DC and was offered a position with the Securities and Exchange Commission. It was there that she met the love of her life, John E. "Jack" Havenner. They married in 1957 and after their daughter Diana was born the next year, moved to Camp Springs, MD and then to Waldorf, MD before settling in since 1987 in Swan Point, MD.

Velma and Jack celebrated their 60th wedding anniversary with friends and family this past February where this picture was taken. Velma had an endearing laugh, amazingly positive attitude, and loved helping others which she did all her life. Her love of family, and the joy she received and gave while doing things for and with her daughter and her grandchildren, had no limit. She could be quoted almost daily of how blessed she was to have the family she adored and whom adored her.

Velma is survived by her loving husband Jack Havenner; her daughter Diana Havenner of Prince Frederick, MD; her grandchildren Brittani Croft (Dustin) of Barnwell, SC and John-Brooks "JB" Bowling of Alexander City, AL; her sisters-in-law Marilyn Butterfield, Shirley Page, and Janet Davis; her brother-in-law Paul Havenner; and an extended family of nephews and niece and their children.

The family will receive family and friends at Raymond Funeral Service, 5635 Washington Ave., La Plata, MD 20646 from 2-4PM and 6-8PM on Monday, June 26, 2017. A celebration of life will be held at 11AM on June 27, 2017 at the Christ Church of La Plata, 112 Charles St., La Plata, MD 20646. Afterward, a procession will leave the church and travel to Christ Church Wayside, 13050 Rock Point Rd., Newburg, MD 20664 where Velma will be laid to rest.

Memorial Donations may be made in Velma Havenner's name to either: Calvert County Animal Welfare League (CAWL), 1040 N. Prince Frederick Blvd., Prince Frederick, MD 20678 (www.cawlrescue.org) OR to Christ Church Wayside, PO Box 177, Newburg, MD 20664 (www.christchurchwayside.com). Arrangements by Raymond Funeral Service.