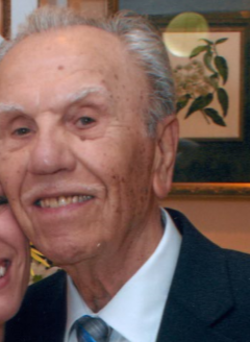 Spiro Demetrios Zis, 96, of Charlotte Hall, MD formerly of Colonial Beach, VA passed away at The Charlotte Hall Veterans in Charlotte Hall, MD on June 15, 2017. Spiro was born on May 30, 1921 in Albania. Spiro served in World War II in France.

Spiro loved to cook for his family. He was well known for his Greek spaghetti with chicken, roast leg of lamb and homemade bean soup. He was an avid walker and took long walks even after he turned 90 years old. He loved his little home in Colonial Beach and took much pride in keeping it clean and neat. He also worked almost daily in the yard, keeping things cut and trimmed to planting trees and flowers.

He loved being with his children and grandchildren. Spiro was a very loving and generous Dad, whom came from a Greek Orthodox family Dhermi, Southern Albania (Christian). He came to the U.S. with hopes to send money back to his impoverished mother and seven sisters. His favorite holiday was Easter. He owned Steve's Diner & Seafood Carryout in Arlington, VA and Steve's Crab Shore in Colonial Beach, VA.

Spiro was predeceased by his parents; his wife, Helen Stathis Zis; his son, James S. Zis, and his eleven sisters. He is survived by his son, Stephen Zis; daughters, Maria Hawks, Jane Zis; grandchildren, Nikki, Jenifer, William, Stephen Lee and five great grandchildren.

Family will receive friends for Spiro's visitation on Thursday, June 22, from 6pm to 8pm with Services at 7pm at Brinsfield-Echols Funeral Home, 30195 Three Notch Road, Charlotte Hall, MD 20622. Interment will be Friday, June 23, 2017 at Oakwood Cemetery, 401 N. Roosevelt Street, Falls Church, VA 22044. Arrangements by Brinsfield-Echols Funeral Home.