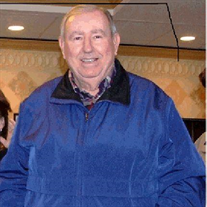 John "Bagman" Canty Stevenson of St. Leonard, MD, passed away on Thursday, June 15, 2017 at his home surrounded by his loving family, at the age of 85. He was born on January 31, 1932 in Washington, DC, to Pearl (Thomas) and Robert C. Stevenson, II.

John was a veteran of the United States Army. He and his wife were the owners of Bowie Auto Glass for many years. He liked watching NASCAR and enjoyed talking on his CB radio, answering to the handle of "Bagman". The most enjoyable times were spent with his family.

For over 45 years, John was the beloved husband of Janet L. (Campbell) and the loving father of Kenny, Keith, Pam, John, Allen, Janice, Scott, Kris and Stephanie. He was the devoted grandfather of 16 grandchildren and 11 great-grandchildren. He was the brother of Chester, Betty and Marion.

In lieu of flowers, memorial contributions in John's name may be made to the American Cancer Society, P O Box 22718, Oklahoma City, OK 73123-1718. Arrangements by Lee Funeral Home.

"BAGMAN OUT"