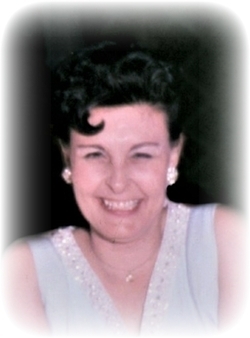 Lorraine Agnes Quick, 89, of California, MD passed away June 12, 2017 at her home in Wildewood. She was born on February 1, 1928 in Brooklyn, NY to the late James Arthur McKevitt and Theresa Murat. Lorraine was strong in body, mind & temperament. She was the middle of three children & the only surviving child. She loved athletics as a child/youth. And her story was that since her high school didn't have a women's track team she just ran with the boys team! She was very competitive!

She married William Wohl at 20, with whom she had 4 children. They suffered through the loss of their infant son, in 1951, and divorced in 1953. On September 3, 1955, Lorraine married her beloved husband, Paul Anthony Quick in Westbury, NY. They started with a ready-made family, happily adding Jean Theresa in 1957. Together they celebrated over 34 wonderful years of marriage before his passing in June 1990.

Lorraine was a woman of many talents. She enjoyed sports and was always ready to play. She was a master seamstress, and upholsterer. And she was accomplished in knitting, crocheting and tatting. She kept her family in hand-made afghans, well made clothing & super clean surroundings! She and Dad also followed their kids to marching band competitions and made certain everyone was well hydrated and everyone's uniforms were in excellent condition.

She was a gracious hostess and she & Dad loved to have family and friends over for holidays, or just enjoy time together. Fun and laughter were always an important ingredient to gatherings. She and Daddy loved to travel to the warmer, drier climate of Arizona to visit with friends. She always bragged about her children, grandchildren and great-grand children. She had an amazing collection of family photos always kept in close proximity, to be shared with visitors. She enjoyed being with her family.

She was employed as a loving and dedicated nursing assistant at St. James Nursing Rehabilitation and Heathcare Center for over 18 years until her retirement. She continued serving the elderly by offering rides for doctor appointments and grocery shopping to friends and those in her neighborhood for an additional five years. She was always moving and serving. She moved to Maryland in June of 2015residing in Spring Village at Wildewood. Time spent with her Maryland family have accumulated wonderful memories and many stories to treasure.

Lorraine is survived by her children: Caren Quick DePiazza (Ed) of Hollywood, MD, James Quick (Diane) of Solvay, NY, and Robert Quick of Kirkville, NY; her grandchildren: Amy Quick Metcalfe, Danielle Quick, Jessica Quick DeCarr, Rebecca Quick, Mallory Bohan Hamilton, Renee Bohan, Leigh Edward DePiazza, Jeffrey Alan DePiazza, and Jaclyn Renee DePiazza; her great grandchildren: Dallas, Jr., Shelby, Savannah, Dawson, Alexander, Christopher, Lillian, Evan, Jaiden, Miley, William, Wayne, Jr.; and many extended family and friends. In addition to her parents she is also preceded in death by her children, Jean Quick Bohan and Donald M. Wohl; and her siblings, James Arthur McKevitt Jr., and Genevieve McKevitt.

A Memorial Service will be celebrated by Pastor Steve Fehrman on Saturday, June 17, 2017 at 11:00 a.m., at Southern Calvert Baptist Church, 12140 H G Trueman Road, Lusby, MD 20657. Inurnment will be held at a later date at Calverton Veterans Cemetery, Calverton, NY. Memorial contributions may be made to Hospice of St. Mary's, P.O. Box 625, Leonardtown, MD 20650 or CareNet Pregnancy Center of Southern Maryland, P.O. Box 31, Lexington Park, MD 20653. Arrangements by the Brinsfield Funeral Home, P.A.