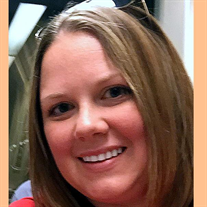 Lisa Marie Hodges of North Beach, MD passed away suddenly on Sunday, June 11, 2017, at the age of 34. She was born on October 30, 1982 in Washington, DC to Susan (Galliher) and Jeffrey A. York. She was the beloved wife of John E. Hodges and in November, 2016, they celebrated their 9th wedding anniversary.

Lisa was a 1999 graduate of Calvert High School. She worked as a receptionist for Dr. Billing's Dental office. She enjoyed volunteering at Windy Hill and Huntingtown Elementary Schools. Her hobbies included reading, going to the beach, fishing and spending time with her family.

Along with her parents and her husband, she is survived by her children: Austin, Jackson, Will, Hayden and Carson. She was the granddaughter of Allie York and sister of Jeffrey, Joseph, Kayt and Allison.

Memorial Contributions may be made in Lisa's name to: North Beach Volunteer Fire Department, 8536 Bayside Road, Chesapeake Beach, MD 20732 or the Calvert County Humane Society, P O Box 3505, Prince Frederick, MD 20678. Interment will be private. Arrangements by Lee Funeral Home.