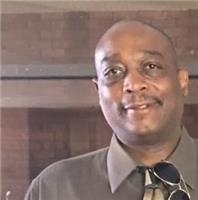 James William Smith Jr., (Jimmy) was called home by God, his beloved son, on Friday, June 9, 2017. He made his peaceful exit to be with his King. Jimmy born June 23, 1963 to the late James William Smith, Sr. and Mary Cecilia Smith in St. Mary's County.

Jimmy loved his family and friends. He enjoyed fishing, joking around, horseshoe, playing a family game of ten thousand, playing solitaire on his cell phone, listening to oldies/goodies music, dancing, watching Jerry Springer and Price is Right. Jimmy's favorite saying was "What you say". In May 1981, Jimmy graduated from Great Mills High School. After graduation he pursued a career as a cook at various places including St. Mary's College, St. Mary's Landing and lastly, St. Inigoes General Store.

Jimmy was preceded in death by his father, James Smith, Sr,; sister, Patricia Smith; grandmothers, Mary Edna Clayton and Mary Joe Smith; grandfathers, Joseph Clinton, Sr. and Joseph Smith, Sr., one aunt, Este'lle Covington and two uncles, John Green and Tyrone Green. JImmy leaves to cherish his memory his special friend, Debra Cole; four daughters, Nicole Smith, Jyreka Smith, Shileka Smith and Keishawn Smith; three sons, Terrance Smith, James W Smith III and Kobe Smith; his mother. Cecilia Smith; sister, Nancy Thompson; brother, Dan Smith; eleven aunts, Hilda Green, Linda Green, Delores Greene, Nettie Ball, Betty White, Alice Smith and Juliet Young; four uncles, Joseph Clinton (Baltimore, MD), Joseph Smith, Sr., Charles Clinton, Joseph Clinton (Texas), and a host of nieces, nephews, relatives and friends.

Family and friends will unite on Saturday, June 17, 2017 for visitation at 10:00 am until time of service at 11:00 am at Mt. Zion United Methodist Church, 17412 Mt. Zion Church Road, St. Inigoes, MD. Interment will be private. Arrangements by Briscoe-Tonic Funeral Home.