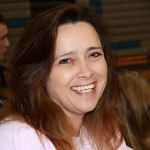 Becky Leona Mays, 52, of Piney Point, MD passed away on June 10, 2017 at Johns Hopkins University Hospital Baltimore, MD after battling Leukemia. Born on September 23, 1964 in Cheverly, MD. Becky married her best friend Randolph S. Mays (Randy) on July 23, 1993 and had one son Brian Russell Mays of Piney Point, MD. That was the love of her life and brightened every day.

Becky is also survived by her mother Barbara Garrison of Hollywood, MD and her father William E. Garrison of Mechanicsville, MD, (stepmother Sandy). Siblings: William Garrison of California, MD, Richard Garrison (Laurie) of California, MD, Wendy Mattingly (Charles) of Morganza, MD, Lorie Tobey (Richard) of Delaware, and Tammy Farrell (Joseph) of Hollywood, MD. Half-brother Robert Garrison of Mechanicsville, MD. She was preceded in death by her sister Barbara A. Jones.

Becky worked as a CNA at Charlotte Hall Veteran Home. After leaving there she worked with Health Home and would take care of patients in their home. Becky started with St. Mary's Health Department in 1992 with Health Home. She also worked in the Clinic for Family Planning and loved working with the public. Becky went to CSM and took classes for phlebotomy and had a love doing outreach to bring testing and education to the public. Becky ended her career as a Medicaid Care Program Associate at the Health Department. She would always say, "Love my job not the politics".

Becky had a love for country music, but did have a wild side for rap and todays music. She loved dancing, camping and spending time with family and friends at the Wilderness Camping Resort. Becky especially loved her time at the pool. She liked playing horseshoes and bowling. Becky enjoyed following her son with school sports and helping with fundraising and concession stands for the Leonardtown Football Team. She loved watching her son and his team grow together. Becky was known as, "Momma Mays".

The family will receive friends on Saturday, June 17, 2017 from 9:00 AM-10:00 AM in the Mattingley-Gardiner Funeral Home, Leonardtown, MD. A Funeral Service will following at 10:00AM in the Funeral Home Chapel with Reverend Paul MacPherson officiating. Interment will be Private. Contribution may be made to Hollywood Vol. Rescue Squad, P.O. Box 79, Hollywood, MD, American Cancer Society, 1041 Rt. 3, North Building A., Gambrills, MD 21054 and/or The Fund for Johns Hopkins University Hospital, 750 East Pratt Street, 17th Floor, Baltimore, MD 21202. Arrangements by Mattingley-Gardiner Funeral Home.