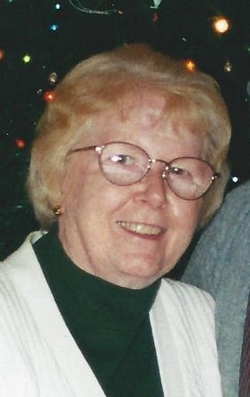 Eula Mae Dowell McCready, 87, of Lusby, MD passed away June 9, 2017 at Solomons Nursing Center. Born March 20, 1930 in Lusby, MD, she was the daughter of the late Malcomb Dowell and Madeline (Pardoe) Dowell. Eula was a homemaker who loved to bake, take care of her grandchildren, sew and go on vacations.

Eula is survived by her children, Glenn McCready (Wendy) of St. Leonard, MD and Janet Cowan (Troy) of Hickory, NC; nine grandchildren; twelve great-grandchildren; and brother, Donald Dowell of Sunderland, MD. She was preceded in death by her husband, Emmett McCready whom she married on June 8, 1947 in Lusby, MD and her siblings, Virginia Mishou and Agnes Allegra.

Family will receive friends on Tuesday, June 13, 2017 from 5:00 p.m. until 7:00 p.m. at Rausch Funeral Home, 20 American Lane, Lusby, MD 20657. A memorial service will be conducted by Rev. Ann Edwards on Wednesday, June 14, 2017 at 11:00 a.m. in the Rausch Funeral Home Chapel. Inurnment will follow in St. Paul United Methodist Church Cemetery, Lusby, MD. Serving as urnbearer will be Mike Hall. Memorial contributions may be made to Calvert Hospice, P.O. Box 838, Prince Frederick, MD 20678. Arrangements by Rausch Funeral Home.