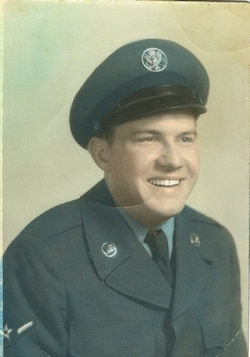 Willis Albert "Bill" Fowler, 87, passed away June 8, 2017 at Burnett Calvert Hospice House. He was born June 30, 1929 on the Point Farm in St. Leonard to Willis Atwood and Nettie Lorena (Elliot) Fowler. Bill lived on Point Farm, now known as Jefferson Patterson Park, before moving to Fairhaven when he was 10 years old. He graduated from Southern High School in 1947.

Bill joined the United States Air Force in 1951 and was honorably discharged in 1955. He was employed as an airplane mechanic in the Air Force, and later as a civilian at Andrews Air Force Base, retiring in 1984. Later in his career, Bill became a woodworker for Air Force One and built a conference table for then president Ronald Reagan.

Bill married Marjorie Shelton on November 9, 1956 and they made their home in Friendship. Bill will be remembered as a jack of all trade, and in his leisure time he enjoyed woodworking, farming, ice skating and roller-skating. He was also a member of Friendship United Methodist Church.

Bill is survived by his wife Marjorie Ann Fowler, daughter Gina S. Scerbo and husband Michael of Dunkirk, son Willis V. Fowler of Dunkirk, grandchildren Lydia MacBride and husband Brendan, Nicole Scerbo and Brooke and Willis Fowler and sister Frances Armiger. He was preceded in death by sisters Lorena Callis and Dora Tudor and brother Thomas Fowler. Arrangements by Rausch Funeral Home.