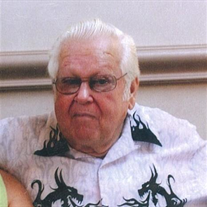 George Kenneth Overton (Kenny) of Pomfret, Maryland, died on Thursday, June 8, 2017 at his home surrounded by family. He was 85 years old. Born on March 15, 1932 in Prince Edward County, Virginia he was the son of the late Bettie Gay Smith Overton and the late Walter Burnell Overton. In addition to his parents, he was preceded in death by his wife Alna Marie Overton.

George served in the United States Army where he was honorably discharged in 1960. After serving, George worked as a mechanic for METRO and managed a gas station and pool hall (Guys & Dolls) before becoming a long-haul driver for Bonnie Enterprise for over 30 years.

He is survived by his children, Betty Jo Miller and her husband Ronald, Sherri Lynn French and her husband Kenneth, Kenneth Roy Overton and Patricia Ann Lacey and her husband John; his grandchildren Tiffany Rose Overton, Christina Marie French, Kenneth Dale French Jr., and Lisa Hambrick and her husband Niles; great grandchildren Jasmine, Lily, Haylee, Abby, Haven and Wyatt. Arrangements by Raymond Funeral Service.