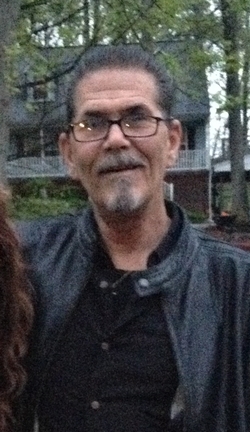 Vincent Douglas "Doug" Smith of Calvert County, and recently of St. Mary's County, Maryland, passed away on Wednesday, May 31, 2017. Affectionately known as "Doug", he was born on March 2, 1961 in Washington, DC to the late Ada Rose and Vincent Leonard Smith. Doug was a long time sheet metal mechanic for Winter's Sheet Metal.

He enjoyed restoring and working on old cars, from a Plymouth Duster to a Chevy Chevelle. He liked watching drag racing, NASCAR, and spending time with his two children, and his grandson. He liked to tinker with crafts; he loved to paint and draw. But, his one true love and passion was the Washington Redskins. He collected all things that were related to the Washington Redskins. Sunday, with the Redskins, was like church to him. He was their number one fan! Doug had a soft heart & soul, with a goofy sense of humor that would make everyone laugh, while always cracking himself up. He was always kind to everyone he met, and his children were his greatest pride and joy.

He is survived by his children; Vincent Douglas Smith II and Ashley Elizabeth Smith; and the mother of his children, Sandy Smith Edger; grandson, Leonardo James Welch; sibling Debbie L. Smith-Hutchinson and brother-in-law Robbie Hutchinson; and many other friends and family members. A Memorial Service will be held on Saturday, June 17, 2017, at 10:00 am at the Real Life Wesleyan Church, located at 27399 Old Village Road, Mechanicsville, MD 20659. Interment is private. In lieu of flowers, memorial contributions may be made to Sandra Edger, PO BOX 180, Morganza, MD 20660 to further the education of Doug's grandson.