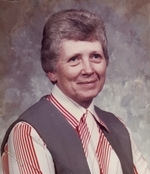 Alice Virginia Mattingly, 93, of Lutherville, MD formerly from Leonardtown, MD passed away on June 4, 2017 in Lutherville, MD. Born on August 3, 1923 in Leonardtown, MD She was the daughter of the late Mary Madeline Williams and Marshall P. Mattingly. Virginia was married to Wallace Mattingly until the marriage ended in divorce.

Virginia is survived by her children: Penelope Meyers (Frederick) of Baltimore, MD, Charles Marshall Mattingly (Patricia) of Indian Head, MD, Tammy Chapman (Ed Green) of Tallahassee, FL. She was preceded in death by her siblings: William Mattingly, Eleanor Ann Newton, Harry Mattingly, and Mary Lou Goddard.

Virginia was a lifelong St. Mary's County, MD resident until she moved to the Baltimore area in 2002 to live her final years. She graduated from St. Mary's Academy. Virginia worked for St. Mary's Hospital as a unit secretary for more than 25 years. She loved sewing and needlework.

A Graveside Service was held on Wednesday, June 7, 2017 at 1:30 PM in Charles Memorial Gardens Leonardtown, MD with Deacon Joy Lloyd officiating. Arrangements by Mattingley-Gardiner Funeral Home.