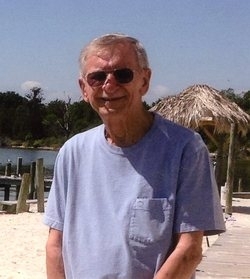 John Szarejko passed away quietly at Charlotte Hall Veterans Home with his wife at his side. John was born in Poland in 1925 and moved to the United States at age 5.

He retired from the Labor Department and moved to Saint Mary's County, became a Docent at Saint Mary's City for 10 years, was president of the Tall Timbers Citizens Association for 2 years and became active in the Democratic Club of Saint Mary's County for many years. He has lived at the Charlotte Hall Veterans Home for the past 3 years.

He leaves behind his wife, Theresa (Tee), daughter, Joy Lily, sister, Ronnie Michaels and brothers, Chet and Phil (Marion). There will be a Celebration of Life on June 14, 2017 at 5:00 P.M. at the Tall Timbers Marina, 18521 Herring Creek Road, Tall Timbers, MD 20690. Arrangements by the Brinsfield Funeral Home, P.A.