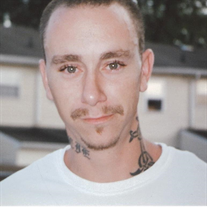 Patrick "Pat" James Cave, age 32, born September 7, 1984 in La Plata, Maryland, passed away on May 27, 2017 in Crofton, Maryland. He was predeceased by his younger sister, Stephanie Cave.

He is survived by his wife, Tarynn M.; his children, Gracie M. Avalyn E. and Patrick James (PJ) Jr.; his father, Daniel Cave and wife Vicki; his mother, Deborah Cord and husband Matthew; his older sister, Ruby Sweetman; his paternal grandparents, Thomas and Donna Cave and Diane and Hal Sheldon; and his maternal grandparents, James and Linda Cooksey. He is also survived by numerous aunts, uncles, cousins, nieces and nephews.

Pat so loved his wife, children and his family. He was known as extremely hard worker who was skilled in many trades, including sheet metal/duct work. The path he walked in life was sometimes a rocky one but his heart was true and loving. He was cherished by us all and will forever live in our memories as the affectionate one. Always quick to say I love you and make us all laugh and smile with his antics.

Friends received on Friday, June 2, 2017 from 10AM until time of funeral service at 12PM at Raymond Funeral Chapel in La Plata, Maryland. Interment at Trinity Memorial Gardens. Arrangements by Raymond Funeral Service.