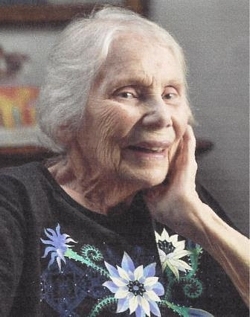 Gladys E. Ament died May 25, 2017 in Solomons, Maryland at Asbury Solomons Retirement Center. She was born on August 26, 1920 and never hesitated to inform everyone that it was the day and year that women got the right to vote. Gladys was born in the village of Gilmore, near Frostberg, MD.

She grew up during the Great Depression and was raised by her grandparents, Amos and Rebecca Green. Her mother, Jane Beeman, helped to support the family by working in the local silk mill. She picked berries in the woods and up on the mountain, listened to her grandfather play the fiddle at square dances, helped her grandmother with the garden, the chickens, and the cooking. She learned to hook rugs and to sew her clothes on her grandmother's prized Singer Treadle sewing machine.

Gladys graduated from Central High School in Lonaconing, MD in 1938. She realized if she was going to get a job and see the world, she would have to leave her home. In 1940, she went with two girl fiends to live and work in Baltimore. She rented a room and got her first job in the Shoe Department of Montgomery Wards. Unlike in the mountains, she traveled to work by busses and streetcars, met lots of nice people from all walks of life, and learned to love crabs and oysters, but she never lost her love for the mountains.

A friend set her up for a "blind date" with Bob Ament. He kept coming around and loved to take her for drives in the "country" for ice cream. Eventually, they decided to get married. When the U.S. entered World War II, Bob knew he would be drafted. They eloped on September 15, 1943, and had a quick honeymoon in Hagerstown's Dagwood Hotel just before Bob enlisted in the Army. While he was in Europe for three years, Gladys continued to work and moved to a tiny apartment near Patterson Park. When Bob returned from Europe in 1946, they started a family with their daughter, Mary Louise. They moved to a larger apartment in Dundalk and had their first son, Robert, Jr. Then they bought their home in Lutherville and had their second son, Marshall.

In the early 50's Lutherville was very rural, much unlike it is today. Gladys was able to grow vegetables and flowers and to walk her children to church (St. John's United Methodist Church) and school (Lutherville Elementary). She loved being a member of the Methodist Women's Society, teaching Bible school, helping with dinner fundraisers, and working with the Susannah House for homeless women and children in Baltimore. Gladys worked as a Teacher's Aide at The Ridge School for about twenty years. When they retired, Gladys and Bob traveled all over the United States, Canada, the Carribean, and Europe.

She visited her home in the mountains frequently and with a love of history, developed a deep interest in genealogy. Before the advent of the computer, she kept detailed notes from cemeteries she visited, the U.S. Archives, family Bibles, and various Departments of Public Records. In fact, she traced one branch of the family back to Virginia to the late 1600's and was able to become a member of the Daughters of the American Revolution (DAR) because at least one of her ancestors fought in the Revolution.

When Bob died in 1996, Gladys continued to live in her home in Lutherville, but in 2004 she decided she wanted to be closer to her grandchildren so she moved to Asbury Solomons Retirement Community. She lived there for thirteen years watching her grandchildren grow up, making new friends, tending to her garden, and gathering donations for the Calvert County Food Bank and the Hospice Center. She loved going to Vespers and attending various Bible study groups at Asbury.

Gladys enjoyed a long and happy life focused on her family and friends. She is survived by her daughter, Mary Louise Ament Streb and son-in-law, Paul G. Streb; her son, Robert and daughter-in-law, Fabienne Ament; her son, Marshall and daughter-in-law, Ellen McCormack Ament; her grandson, Evan Michael Ament; and her granddaughter, Chloe Elizabeth Ament. Gladys, the girl from the mountains of western Maryland will be remembered for her sense of humor, her love of history, her care for others in need, and her spirituality. She will be missed by all. Arrangements by Rausch Funeral Home.