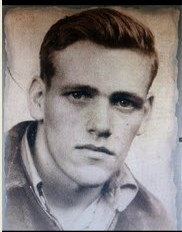 Frank Samuel Dye Sr., 85, passed away May 21, 2017 at Southern Maryland Hospital in Clinton, MD. He was born April 9, 1932 in Raven, VA to Robey G. and Marjorie Alice (Keene) Dye. He was raised in Raven and after high school worked as a coal miner for ten years. He married Norma Jane Hicks July 28, 1951 and they lived in Raven until moving to Riverdale, MD in 1963.

Frank was employed for over forty years by National Fence Company, owned and operated by Jack Long, and was a production manager and manufacturing supervisor, retiring in 1997. In retirement Frank and his wife Jane moved to Myrtle Beach, SC, and after Jane's passing he returned to live with his son Sam in Hughesville in 2013.

Frank was a member of the Moose Lodge in College Park and Murrells Inlet, SC when residing there. Frank excelled in math and had an uncanny command of numbers, dates and computations. In his leisure time Frank enjoyed gambling, especially playing slots at Abner's. He loved sports, and played semi-pro baseball in his youth. He was a fan of the Nationals, the Redskins, and NASCAR, especially Dale, Sr. and Dale Earnhardt, Jr.

Frank was preceded in death by his wife Jane in 2006, a daughter Mary Alice Hill, a son Leslie Ray Dye, brothers James, Willard, Danny L. and Junior E. Dye and sisters Ivory J. Horn and Flossie M. Hurt. He is survived by a son Frank Samuel "Sam" Dye, Jr. and wife Sandra of Hughesville, daughters Patsy G. Reed and husband Wayne of Owings, Pamela L. Nicholson and husband Kevin of Chesapeake Beach, and Jeanette G. Stanley of North Myrtle Beach.

Also surviving are grandchildren Sam and Michael Dye, Tiffany Naecker, Wayne Reed, Jr., Kevin Nicholson, Jr., and Kenneth Nicholson, great-grandchildren Cadence, Caleb, Sophia, Layla, Camryn, Chloe, Brooks, Madison and Kylie and sister Judy Compton of Cleveland, OH and Maybelline Dye of Raven, VA. Arrangements by Rausch Funeral Home.