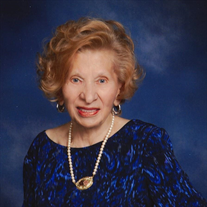 Elizabeth Dolgos Havrilla, 95, of La Plata, Maryland died May 17, 2017 in La Plata, Maryland. Born in East Conemaugh, Pennsylvania she was the daughter of John Dolgos and Barbara Molnar Dolgos. In addition to her parents, she was predeceased by her husband, Andy.

She was a loving wife, mother, grandmother, and great-grandmother. She is a retired nurse of 25 years from Conemaugh Valley Memorial Hospital. She is also a member of St. Mary's Byzantine Catholic Church in Johnstown, Pennsylvania.

She is survived by her children, Andrew Victor (married to Mildred Bolick) of La Plata, Maryland, Gloria Ann (married to Donald Bollinger) of Woodstock, Georgia, Edward Stephen (married to Pia Pocino) of Trenton, New Jersey, and David Nicholas (married to Jean Ann Shander) of Jacksonville, Florida; her sisters, Elaine Charney of Mineral Point, Pennsylvania, Barbara Proko of New Jersey, and Irene Otolinsky of Johnstown, Pennsylvania. She is also survived by 11 grandchildren, 14 great-grandchildren, and many nieces and nephews.

Friends received on Tuesday, May 23, 2017 from 5-8PM at Frank Duca Funeral Home, Westmont Chapel, 1622 Menopher Boulevard, Johnstown, Pennsylvania. Funeral liturgy on Wednesday, May 24, 2017 at 10AM at St. Mary's Byzantine Catholic Church (Johnstown). Interment at Holy Trinity Parish Cemetery. Memorial contributions, in Elizabeth's name, may be made to St Mary's Byzantine Catholic Church, 411 Power Street, Johnstown, Pennsylvania 15905. Arrangements by Raymond Funeral Service.