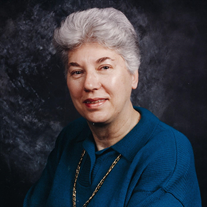 Patricia Anne "Nana" Paulk, 82, of Hughesville, Maryland died May 15, 2017 in La Plata. Patricia was a graduate of Anacostia High School where she helped design the Indian mascot. Following high school she worked as a draftsman for C & P Telehone Company. She played and coached baseball with her son. She was a long time volunteer with Meals-On-Wheels and was known as a loving grandmother and friend.

Daughter of the late George Walter Clark Jr. and the late Sarah Julia McRary Clark. Also predeceased by her husband Artie F. Paulk Jr., late brother Richard E. Anderson and her late sister Barbara L. Owens. She is survived by her son Douglas M. Paulk and her daughter-in-law Laura; two granddaughters Whitney Paulk and Meagan Paulk and her husband Dustin Morris.

Friends received on Saturday, May 20, 2017 from 10:30AM until service time at 12 Noon at Raymond Funeral Service P.A., La Plata, MD. Memorials in Patricia's name are asked to Humane Society of Charles County or Meals-On-Wheels. Arrangements by Raymond Funeral Service.