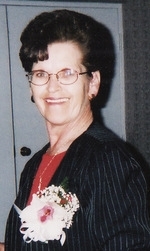 Diane Van Wart of Mechanicsville, MD passed away surrounded by her loving family on May 11, 2017 in Mechanicsville, MD. Born on May 20, 1948 in Mechanicsville, MD, she was the daughter of the late Francis McQue Lawrence and Anna Mae Nelson Lawrence. Diane was the loving wife of the late Paul Anthony Van Wart, whom she married on May 28, 1971 in La Plata, MD and preceded her in death in 2009.

Diane is survived by her children: Richard "Ricky" Goldsmith of Mechanicsville, MD, and David Goldsmith of FL, 6 grandchildren: Richard "Ricky Jr" Goldsmith, Krystal Goldsmith, Tina Sater, Tiffany Goldsmith, Kandra Munoz, and Jamey Bassford, and 9 great grandchildren. Siblings: Theresa Edna McNey of Mechanicsville, MD, Catherine "Judy" Murphy of Mechanicsville, MD, William J. Lawrence of La Plata, MD, Susan M Carrico of Lusby, MD, Arthur Lawrence of Mechanicsville, MD, Clara Thorne of King George, VA, Ray Lawrence of Mechanicsville, MD, Jimmy Lawrence of Mechanicsville, MD. She was preceded in death by her siblings: Mack Lawrence, Mary Ann Hall, Charles "Buck" Lawrence, Eleanor Lawrence, and Al Lawrence. She was a lifelong St. Mary's County, MD resident and attended Margaret Brent School.

Diane worked for Easy Wash Laundry, retiring after 45 years. Diane would clean houses every Monday that was a must, you couldn't get her to do anything else. Diane had a wall that everyone called the "Wall of Fame" on the wall was nothing but, pictures of family and friends. Diane played pitch, bird lover, yard sale, and watched family movies, and soap operas. She went to yard sales every Saturday, where she and Judy would get statues etc., and if she saw something you wanted, Diane would get it. Diane loved animals her two pugs: "Penny" and "Sassy" and had a bird feeder outside her window. Diane was the most loving mother and friend to everyone.

The family will receive friends on Tuesday, May 16, 2017 from 5:00 PM-8:00 PM with prayers recited at 7:00 PM in the Mattingley-Gardiner Funeral Home, Leonardtown, MD. A Mass of Christian Burial will be celebrated on Wednesday, May 17, 2017 at 10:00 AM in St. Joseph's Catholic Church, Morganza, MD with Father Andrew Royals officiating. Interment will follow in Charles Memorial Gardens, Leonardtown, MD. Pallbearers will be: Richard L. Goldsmith, Jr, Jamey Bassford, Mike Burroughs, Ronald V. Carrico, and Ray Lawrence. Contributions may be made to Hospice of St. Mary's, P.O. Box 625, Leonardtown, MD 20650. Arrangements by Mattingley-Gardiner Funeral Home.