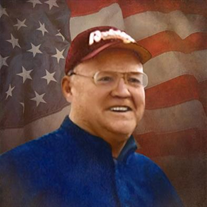 John Howard Apperson, 80, of White Plains, Maryland died May 9, 2017. He was the son of Leo F. Apperson and Dorothy M. Kanary Apperson. In addition to his parents he was preceded in death by his brothers and sisters David, Robert, Shirley Kane, and Dwight, as well as his father-in-law Charles E. Barbour.

John was a proud Navy Veteran. He had a long career as a plumber, serving as a member of the Local 5 Plumbers Union. John was an avid fisherman and crabber, and enjoyed playing cards and watching western movies. His true passion was spending time with his ever growing and loving family.

He is survived by his wife of 61 years, Josephine, his twin brother James F. Apperson, sister Dorothy Apperson Canterbury, brother Edward Apperson, sister Edna Apperson Barbour, and many loving nieces and nephews. He is also survived by his children Cheryl Ann Warner, Jeff (wife Lori), Kelly Williams (husband Mark), Sharon Elkins (husband Keith), Jody Burch (husband Robert), and Charles (wife Stephanie). John is also survived by his 16 grandchildren and 25 (soon to be 26) great grandchildren.

Visitation on Tuesday, May 23, 2017 from 5-8PM at Raymond Funeral Service Chapel, 5635 Washington Avenue, La Plata, Maryland 20646 and where the Funeral Service will begin at 11AM on Wednesday, May 24, 2017 at 11AM. Interment at 1PM on Wednesday, May 24, 2017 at the Maryland Veterans Cemetery, 11301 Crain Highway, Cheltenham, Maryland 20623.

Memorial contributions may be sent to J.D.R.F. (Juvenile Diabetes Research Foundation, 1400 K Street, NW, Suite 725, Washington, DC 20005. Donations can be made online directly to the Virginia Hampton Roads chapter at: https://www2.jdrf.org/site/Donation2?idb=845808324&df_id=2374&mfc_pref=T&2374.donation=form1. Arrangements by Raymond Funeral Service.