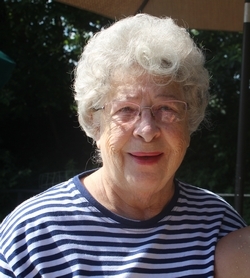 Gladys Marie Keefe, 86, of Chesapeake Beach passed away May 9, 2017 at her residence. She was born May 26, 1930 in Washington, D.C. to Chas and Gladys (Bradley) Reynolds. Gladys was employed as a union representative with Local 42 Bookbinders Union.

Her final days were spent at home surrounded by her loving family and friends that she touched in so many ways. Gladys volunteered many years at Catholic Charities and the Help Association and enjoyed the friendships she made there.

Gladys was preceded in death by her husband William Seymour, sons Richard and James "Larry" Keefe and sister Betty Buckmaster. She is survived by her son Stephen J. Keefe and wife Patti of Chesapeake Beach, 4 grandchildren, 9 great-grandchildren, 4 great-great grandchildren, daughter in law Diane Keefe and numerous nieces and nephews.

In lieu of flowers, donations may be made to Calvert Hospice, North Beach Volunteer Fire Department or the Help Association. A Celebration of Life will be held at a later date. Arrangements by Rausch Funeral Home.