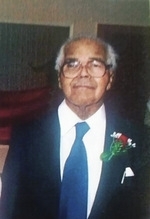 Joseph Henry Young, "Flicker", 96, of Leonardtown, MD formerly from Redgate, MD departed this life on May 6, 2017 in Leonardtown, MD. Born on June 15, 1920 in Helen, MD he was the son of the late Rose Helen Barnes Young and John Henry Young. He was a lifelong St. Mary's County, MD resident. Joseph graduated from the Banneker School in Loveville, MD in 1940. Joseph had several hobbies, he was an athletic man, who loved baseball, boxing, and all sports. He loved gardening, fishing, and crabbing.

Joseph is survived by his loving wife of 67 years, Mary Josephine Young. Joseph is also survived by his children: Cathy D. Young Parker (Frederick Park, Jr.), and nine grandchildren: Wayne, Denise, John, Joseph, Marvin, Jerron, Mary, Felicia, and Tenia. As well as 35 great grandchildren, and a host of nieces and nephews. Joseph was preceded in death by his son Joseph Ellsworth Young and step daughter Florine Agnes Herbert. He was the last of 11 sibling: James Alexander, Sidney, Blanche, Helen, Floyd Perry, Stephen, Paul, Charles, Edward, Mary and Joseph.

He worked odd jobs on the farm until he was drafted in the United States Army on April 11, 1942 into WWII. He was assigned to the Buffalo Soldiers. Joseph was trained as a heavy mortar crewman, from 1943- 1945, he was fighting battles from Sicily and Southern Italy to the Italian mainland towards Germany. On February 11, 1945 Joe was wounded in a mortar explosion. He received a Purple Heart Medal and was Honorably Discharged on December 21, 1945. After leaving the United Sates Army, Joseph was employed at Patuxent River Naval Air Station working with specialty lumber, as a warehouseman. He loved his job, and retired after 35 years.

The family will receive friends on Saturday, May 13, 2017 from 9:00 am-10:00 am in Holy Face Catholic Church, Great Mills, MD where a Mass of Christian Burial will be held at 10:00 am with Father Jerry Gamrot officiating. Interment will follow in Charles Memorial Gardens, Leonardtown, MD. Pallbearers will be: Wayne Stewart, Joseph Young, Jerome Herbert, Jacob Herbert, Frederick D. Parker, Jr., Jackie Pixley, Jr., and Myron Woodland. Honorary Pallbearer will be: Wayne Stewart, Jr., Dominique Stewart, and Jervon Young. Arrangements by Mattingley-Gardiner Funeral Home.