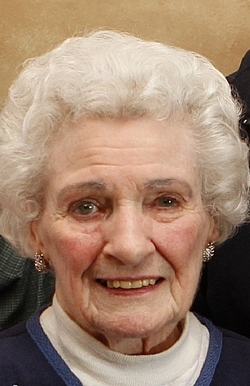 Barbara E. Clark, age 95, died March 26, 2017 in Spring Hill, Florida. She was born in New York and always called Bay Ridge her home. Her parents, Patrick and Sabina (Maloney) Sullivan immigrated to New York from Ireland in the early 1900s. She had 3 older siblings, Jack, Nora, and baby Sabina.

Barbara graduated from Notre Dame College in 1943. She married 1st Lt. Jim Clark when he returned from the South Pacific in August 1944 and she became an Air Force officer's wife. They lived in Ohio, Massachusetts, Puerto Rico, Mississippi, and New York.

She had 5 wonderful children: James F. Clark (Casey) of Denver, CO., Gail P. Gardiner (Francis) of Waldorf, MD., Peter B. Clark (Nikki) of Atascadero, CA., Jeena Haynes (Bobby) of Hernando Beach, FL., and Andrea Sullivan (Greg) of Hernando Beach, FL. She had 6 grandchildren, 8 great grandchildren and 3 nephews. She was especially fond of her only niece, Pat Herlihy.

Barbara and Jim moved to Cheltenham, Maryland in 1962 where they owned and operated the Glenwood Motel for several years. Barbara later lived with her daughters in Chesapeake Beach before moving to Florida. Barbara was a devout Roman Catholic and proud of her Irish heritage. Everyone who met her remarked how beautiful she was and a joy to be around.

A Mass of Christian Burial will be held at St. Peter's Catholic Church, Waldorf, Maryland on Tuesday, May 16th at 10:00 a.m. There will be a celebration of Barbara's life at Grille No. 13 immediately following. In lieu of flowers, the family requests a memorial donation to the Arthritis Foundation (www.arthritis.org).