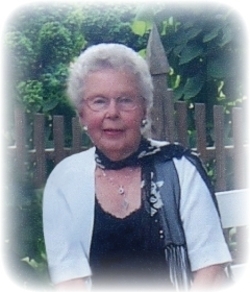 Marie Graham Hammond, 95, of California, MD passed away on May 3, 2017, at MedStar St. Mary's Hospital in Leonardtown, MD. She was born May 21, 1921 in the Philippines to the late Colonel Robert McDonald Graham, U.S. Army and Georgianna Oktavec Graham.

Marie graduated from Stevens College in New York, N.Y. On September 26, 1942, at the beginning of World War II, Marie married her husband, Captain George Earl Hammond, U.S. Army Air Corps in Salt Lake City Utah as George was completing B-24 Pilot/Bombardier training. They had only dated six times. They celebrated almost 71 wonderful years of marriage before his passing in June 2013. During her lifetime Marie had been employed by Ted Dahl Insurance in Kansas City, Missouri and as the Registrar at Texas Christian University. Fort Worth, Texas.

After the war, George and Marie settled into the life of raising a family in the then rural Kansas City, Missouri area. Over the course of George's successful sales representative career through his retirement in the mid 1980's, the Hammond family would see homes in Texas and Alabama, eventually returning to Missouri to take up farming. At the urging of their son and daughter-in-law, residents of Mechanicsville, George and Marie left their farm life and moved to Maryland to be near their youngest children.

The "Marie and George team" tremendously enjoyed fishing together and were experienced world travelers. She was a die-hard West Point football fan and rooted for them each year to "Beat Navy". Marie, a member of the "Greatest Generation" (Depression/World War II era), was fiercely independent and lived her life under her own terms until the very end. She touched/made a positive difference on many lives, especially those of her family. She will be missed, but is now with her beloved George.

Marie is survived by her children: Nellie Westerman (Wes) of Elk Creek, CA, Georgianna Coleman of Overland Park, KS, and Captain Andrew T. Hammond, U.S. Navy (Jo) of Mechanicsville, MD; seven grandchildren, and 14 great grandchildren. In addition to her parents and husband, she is also preceded in death by her brother, Robert McDonald Graham, Jr.

A Funeral Service will be celebrated by Reverend Katie Paul on Wednesday, May 10, 2017 at 1:00 p.m.at Brinsfield Funeral Home, 22955 Hollywood Road, Leonardtown, MD 20650. Interment will be held at a later date at Maryland Veterans Cemetery in Cheltenham, MD. Arrangements by the Brinsfield Funeral Home, P.A.