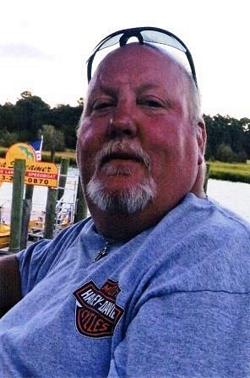 Duane Mitchell Ellis, 52, of Leonardtown, MD passed away suddenly of heart failure on April 29, 2017 at MedStar St. Mary's Hospital. Born October 14, 1964 in Salina, KS he was the son of the late Kenneth Ellis and Charlotte (Myers) Ellis. Duane was named after musician Duane Eddie of whom his parents were fans. Duane graduated from Central High School in Prince George's County, MD in 1983. He married his wife Kathy L. Ellis on August 28, 2016 in Leonardtown, MD.

Duane was a Master Auto Technician and Maryland State Inspector for Mr. Tire in California, MD for over ten years. His co-workers had much respect for him, at times making them mad, but at the same time, making them laugh. His tools were his livelihood. He had tools in his hands from his early teen years. When he could no longer work due to health reasons, he was completely lost without tools in his hand.

Duane had a sense of humor like no other. He would light up the room even in the doctor's offices. His doctors probably thought he was nuts, but that was Duane, always laughing and joking. He enjoyed riding his Harley, boating, vacationing in Myrtle Beach and spending time with his family and friends.

Duane is survived by his wife Kathy; his step-sons, Ronald Brown of Martinsburg, WV and Jason Brown of East Lansing, MI; granddaughters, Ashley, Aubrey and Lyla Brown; his nieces and nephews that he loved dearly, Adrian Critchfield-Abramson and family, Jon Critchfield and family, Jacob Critchfield and family, Joshua Judd and family, Dawn Judd and family, and Sean Judd and family; his very close and very dear friends, Kenny and Pam Yount who have known Duane since he was a tot and have put up with more than we could even imagine; brother-in-law, David and Jill (Judd) Critchfield of Lusby, MD; and many special aunts, uncles, cousins and extended family in Alabama, Oregon and California. In addition to his parents, Duane was preceded in death by his siblings, Kenneth Ellis and Belinda Lea Critchfield.

Family will receive friends on Tuesday, May 9, 2017 from 5:00 p.m. until 7:00 p.m. at Rausch Funeral Home, 20 American Lane, Lusby, MD 20657. Following the visitation, everyone is invited to the Solomons Volunteer Fire Department from 7:00 p.m. until 9:00 p.m. for light refreshments. In lieu of flowers, contributions may be made to the Duane M. Ellis Memorial Fund, c/o PNC Bank, 13984 H.G. Trueman Road, Solomons, MD 20688 or the American Heart Association, P.O. Box 5216, Glen Allen, VA 23058. Arrangements by Rausch Funeral Home.