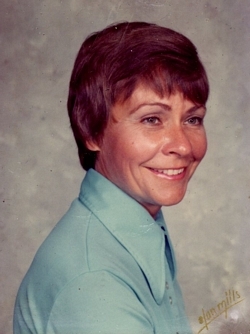 Eleanor Cecelia Tennyson, 84, of Lusby, MD passed away on May 2, 2017 at her home. Eleanor was born on March 19, 1933 in Travilah, MD to Louis F. Federline and Minnie M. (Kramer) Federline. Eleanor came from a large family of eight brothers and three sisters. She was the youngest. She was raised near Rockville, MD and graduated from Richard Montgomery High School. Eleanor is survived by her husband, Ted; their two sons, John and Ted III; and four grandchildren, Joseph, April, Stephen and Brandon.

Eleanor worked in the Aerodynamics Laboratory at the David Tayar Model Basin, now the Naval Ship Research and Development Center. There she met her future husband Ted Tennyson. They were married on November 20, 1954 and lived in Rockville, MD where they raised two sons, John and Ted III. After retiring in 1983, she and Ted moved to Lusby, MD where she spent a lot of time doing volunteer work. She helped to keep Our Lady Star of the Sea Catholic Church clean and helped prepare donated items for sale at SMILE, Inc. She also volunteered for the county by collecting mosquitos off of her body with a hand held vacuum, freezing them in order for the county to analyze them to regulate spraying operations.

Family will receive friends on Wednesday, May 10, 2017 from 5:30 p.m. until 7:00 p.m. with a Funeral Service at 7:00 p.m. at Rausch Funeral Home, 20 American Lane, Lusby, MD 20657. Interment will be on Thursday, May 11, 2017 at 1:00 p.m. at St. Mary's Catholic Cemetery, 1100 Baltimore Road, Rockville, MD 20852. Memorial contributions may be made to Calvert Hospice, P.O. Box 838, Prince Frederick, MD 20678 or Our Lady Star of the Sea Catholic Church, P.O. Box 560, Solomons, MD 20688. Arrangements by Rausch Funeral Home.