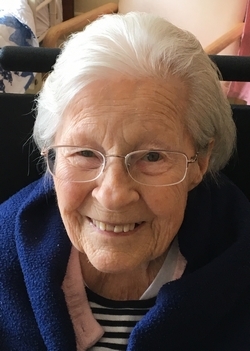 Lucille Irene McCabe Dellosa, 93, of Owings passed away May 3, 2017 at her residence. She was born January 11, 1924 in Borgman, WV to John Elmer and Delcie Agnes (Myers) McCabe. Lucille was raised in West Virginia where she met and married Juley Paul Dellosa. They were married in 1947 and moved with their family to Washington, D.C. in 1954.

Lucille was primarily a homemaker, raising her three children. She was also employed by Prince George's County Schools as a cafeteria worker for many years. She was an active member of St. Anthony's Catholic Church in North Beach. Lucille was a fan of the Redskins and enjoyed sewing, working in her yard, flowers and being home with her family.

She was preceded in death by her husband Juley. Lucille is survived by children David Dellosa (Cynthia) of Centreville, Mary Dellosa McCall of Deale and Linda Dellosa (Jim Moltz) of Owings, grandchildren Brian McCall (Helen) of Westminster and Jimmy and Lauren Moltz of Owings and great-granddaughter Abigail McCall. Arrangements by Rausch Funeral Home.