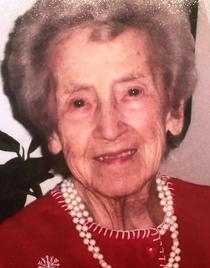 Patricia Ellen O' Halloran, 95, of Dunkirk, MD passed away in Rockville, MD on April 30, 2017. Patricia was born on December 18, 1921 in Riverdale, Maryland to the late Joseph and Mary Ellen Hanley McDonald. She was employed as a secretary at Providence Hospital, where she worked in several departments for many years before retiring.

She had lived in Dunkirk since 1979 and was a member of Jesus the Good Shepherd Catholic Church. Patricia enjoyed reading, especially the newspaper, and she was a fan of most sports including baseball, college basketball and golf.

She is survived by her grandchildren, Kathleen O' Halloran, Thomas "TJ" O' Halloran, III, Michael O' Halloran and Kimberly Shoe and 14 great-grandchildren. Her husband, Thomas O' Halloran, Sr. predeceased her, as have her son, Thomas O' Halloran, Sr., daughter, Mary Ellen Shoe, sister, Jane Rollman and brothers John, Donald, Robert and Bernard McDonald.

Memorial contributions may be made to the Leukemia and Lymphoma Society, PO Box 4072, Pittsfield, MA 01202. Arrangements by Raymond Wood Funeral Home.