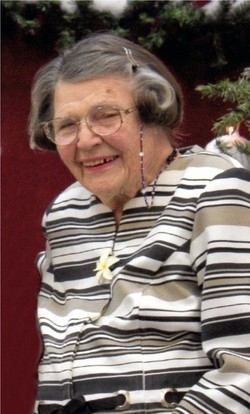 Winifred Marie Cornthwaite Dixon, peacefully passed away on Monday, May 1, 2017, at the Hospice House of St. Mary's following two recent mini-strokes. She was born on April 11, 1920 in Rinard, IA and recently celebrated her 97th birthday. She was the daughter of John Albert and DeLight Hurd Cornthwaite. She was married to R. Johns Dixon, a native of St. Mary's Co., on Nov. 15, 1947.

She was a 1944 graduate of Coe College and St. Luke's Hospital Nursing School in Cedar Rapids, Iowa. During WWII she attempted to join the WAVES but was rejected due to hearing loss. Following graduation, she followed her family to St. Mary's Co., MD, where her father was stationed by the Navy in 1943 to the new naval base at Patuxent River. In 1946-47, she spent eleven months working as the evening charge nurse of the Maternity Ward at Queens Hospital, Honolulu, Hawaii. She developed a lifelong love of the islands and returned several times. She also worked at St. Mary's Hospital before her 26 year career with the St. Mary's Health Dept.

Working full time and raising six children did not stop her from being active in the community most notably were joining her husband in the County and State Farm Bureau, multiple leadership roles and choir director at Mt. Zion United Methodist Church, PTA's, and after retirement with the Am. Red Cross Blood Drives. She will be remembered for her love of family, friends, co-workers, acquaintances, service to her church and the Lord, her generosity, faith, strength, and fun-loving spirit.

She is survived by her children: Thomas (Kathy) Dixon, Charlene (Robt) Hutcheson, Fredric (Marilyn), Janet, Raymond, and James (Lorraine) Dixon, 13 grandchildren, 12 great-grandchildren, nieces and nephews, J. Edward Cornthwaite, Mary C. Winger, John Bowling, Jr., Debbie Meagher, Lydia Dixon-Rush, and Stephen Dixon. She was preceded in death by her siblings Charles and Bernice Cornthwaite, Murna McFarlen (Mac), in-laws, Bill and Pat Dixon, Bob and Irene Dixon, and nephew, David Dixon.

Donations can be made to Mt. Zion United Methodist Church, 27108 Mt. Zion Church Road, Mechanicsville, MD 20659, the American Red Cross, 80 West Street, Suite A, Annapolis, MD 21401, or Coe College School of Nursing or Library, Advancement Services Office, 1220 First Avenue NE, Cedar Rapids, IA 52402. Visitation will be held Thursday, May 4, 2017, 5-7 pm at Brinsfield Funeral Home, 22955 Hollywood Road, Leonardtown, MD 20650. Funeral and burial will be Friday, May 5, 2017 at 10 am at Mt. Zion United Methodist Church at Laurel Grove, 27108 Mt. Zion Church Road, Mechanicsville, MD 20659. Arrangements by the Brinsfield Funeral Home, P.A.