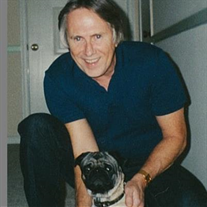 Tommy David Wright, 69, of Welcome, Maryland, died April 28, 2017 at his residence with Hospice. He was the son of Alwin Otis Wright and Mary Lynn Fee Wright. In addition to his parents, he was also predeceased by his ex-wife, Marian Anne (Daugherty); his son, Joseph Michael Wright; his sister, Ervil Marie Behe; and his beloved pug, Grunt.

Tommy lived in Southern Maryland almost his entire life. He was born in Washington, DC and grew up in Nanjemoy, Maryland. He lived for a while in Florida when he was a young man but then returned to Maryland and lived here ever since. Tommy worked as a mechanic his whole life as he was very mechanically gifted and could take apart and put back together a transmission while blind folded. He was a past owner of CARS (County Auto Repair Service). He also worked for the Naval Ordnance Station (N.O.S.) in Indian Head.

He is survived by his ex-wives, Kathleen Joette (Tominack) and Regina Ann (Wedding); his daughter, Mary Ann Wright and husband Bill Bush of San Antonio, Texas; his brothers Billy D. Wright and wife Margaret of Bedford, Virginia, Johnny E. Wright of La Plata, Maryland, and Jimmy N. Wright of Arkansas; his sisters Dorothy June Procita and husband Chuck of California, Shirley Francis Wilson and husband Tom of Biloxi, Mississippi, and Betty Jane Abel of Las Vegas, Nevada; his brother-in-law, Walter Behe of West Virginia; his grandchildren, Courtney Wright of Florien, Louisiana, Brittany Brown of Houston, Texas, Erica Coker of Oakdale, Louisiana, Alexander Bush of San Antonio, Texas and Oliver Bush of San Antonio. Texas; his great-grandchildren, Bentley Michael Martinez and Rylan Shane Coker; and a special mention to Kevin Berry, his friend and caretaker for the last few years.

Friends received on Tuesday, May 2, 2017 from 9:30AM until time of Funeral Service at 11AM at Raymond Funeral Service Chapel, 5635 Washington Avenue, La Plata, MD 20646. Interment to follow at Nanjemoy Baptist Church Cemetery, 3030 Baptist Church Road, Nanjemoy, MD 20662 at 12:15 PM. Memorial contributions in Tommy's name may be sent to the Michael J. Fox Foundation for Parkinson's Research, PO Box 5014, Hagerstown, MD 21741-5014. Arrangements by Raymond Funeral Service.